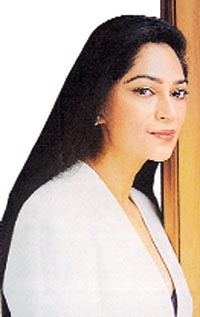 Simi Garewal herself was easy to approach. She picked up the phone herself and after the introductions, said: "Could you ring up to days later as my throat is pretty bad today. She kept her word and answered the questions in her polite, well-modulated voice. To a query about how she draws her subjects, she says there can be no hard-and-fast rule. Each individual has to be dealt with differently. One has to have an understanding of human nature and use the psychological approach. "Since I myself have been interviewed so many times, I know what puts me off. A hostile interviewer will never elicit a good response from the subject. You can't put people's back up, even tough questions have to be handled sensitively. I know even after being in showbiz, giving interviews is always a daunting task, since you are opening a part of your self".
Simi and her sister Amrita do a lot of research, go to libraries, read up material pertaining to the person scheduled for an interview (even when I rang up, she was on the Internet trying to cull information on one of her guests). Her interviewees come on the show by invitation alone but she does get feelers from many people to be invited for the programme. "It is quite flattering when relatives, friends of celebrities ring up to be called. I have my own process of selection." I have to be genuinely interested in them. Initially, I have seen most of them are slightly awe-struck, or may be a little apprehensive because they feel I have handled only top celebrities in their respective fields and in comparison they may emerge dull or lacklustre and the episode may not evolve into an interesting one. So, I have to allay their fears."
On being asked if she became friends with all those whom she had interviewed — "After the telecast, they all ring up to thank me. Till date all of them have been happy with the episodes, they carry happy memories. I cannot really keep in touch because I am so busy. There is no time to socialise, but we do at times exchange e-mails." She further elaborated that she had decided not to work in 'outside' assignments. She had directed Rukhsat, and the experience was not really good. "Outside producers have their own way of looking at things. In my production it is I who am in control. If the quality is not good, I do not compromise. I do not think of money, I reshoot."
Even the two episodes of Medley were very well received. Kapil Dev was a real sport, he just laughed the goof up on his pregnancy. "I have had a great time interviewing all of them, not even one of them has acted difficult. "We are already shooting, I am really tied up, it is a contract of 26 episodes. I hope to do justice to my subjects and audience again," said the woman in white who wears beautiful pearls that are the envy of every other woman.