A team of Tribune reporters undertook a quick survey of prisons in Delhi, Haryana, Himachal Pradesh, Punjab and Chandigarh.
The report appears on Edit page
THE TRIBUNE MAGAZINES
On Mondays


On Sundays

On Saturdays

IN PASSING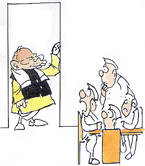 He claims he is PV Narasimha Rao, a former PM, party chief...
by Sandeep Joshi
11 of family shot in Bihar
SIWAN (Bihar), Oct 14 — In a fresh outbreak of caste-related violence, 11 members of a Yadav family were mowed down by unidentified gunmen at Mujahipur village in the district sparking off communal tension in the area.
5 securitymen killed in J & K
SRINAGAR, Oct 14 — Five security personnel, including a BSF Sub-Inspector and two militants, were among eight persons killed and six security men wounded in separate militancy-related incidents in Jammu and Kashmir since last evening.
Domestic air travel costlier
CHANDIGARH, Oct 14 — Domestic air travel has become costlier now. While management of Indian Airlines and its feeder airline, Alliance Air, are still contemplating for a 15 per cent hike in domestic air fares, some of the private airlines, including Jet Airways and Sahara, have already hiked fares.

Soccer legend Jarnail dead
CHANDIGARH, Oct 14 — With the passing away of legendary soccer star Jarnail Singh, an era of Indian football has come to an end. Jarnail breathed his last in Vancouver in the early hours today where he had gone to see his younger son Harshmohan who is settled there.
Punjab's debt trap and wheat crisis
CHANDIGARH, Oct 14 — Neck deep in paddy crisis, the Punjab Government is also in hot waters on the wheat front. Interestingly, for the trouble pertaining to wheat, again, it is the Union Ministry for Consumer Affairs, Food and Public Distribution that is playing the spoilsport.
The economics of paddy crisis
CHANDIGARH: The current paddy crisis can be eased, or its recurrence avoided, if a little economic thinking is done and right technology applied to cut costs, particularly by the Food Corporation of India.
EARLIER STORIES
(links open in a new window)
Several trains cancelled
October 14, 2000
Rao, Buta get 3 years' RI
October 13, 2000
Paddy: Centre softens stand
October 12, 2000
RBI policy to boost markets
October 11, 2000
Jaya gets 3-year RI in Tansi case
October 10, 2000
Uma raises banner of revolt
October 9, 2000
Farmers gherao Central team
October 8, 2000
Mamata withdraws resignation
October 7, 2000
80 pc of paddy defective: FCI
October 6, 2000
Vajpayee rules out immediate rollback
October 5, 2000
India, Russia forge strategic tieup
October 4, 2000