"Music has always been a passion with me and it is the only thing I have ever wanted to do,"says 35-year-old Gaurav who has given innumerable solo performances both in India and abroad. Today, he is an established professional musician, who teaches, composes and performs all over the world. Gaurav had been invited to teach by Bharatiya Vidya Bhavan, London, in February, 1999. Nimrana, an Indo-French venture, had asked him to compose music. His second album Search of Peace came out in 1998. At present, he is working on an album related to social issues like pollution, problems of Delhi, etc.
New role
Working for NGOs (Non-Government Organisations) has really caught on and many of them are doing pioneering work in different fields. People from diverse backgrounds, from housewives to professionals, are all trying to give a new meaning to their lives by contributing something concrete to society. One such woman is Shobita Punja. She is an educated, smart, savvy woman. Generally clad in a crisp cotton saree with hair loosely tied in a bun, she is computer-literate and articulate. She immediately impresses with her persona. A quote by Swami Chinmayanad on her work table at the INTACH office at the India International Centre speaks for her bent of mind. The quote is:
"All spectacular successes were achieved in little courageous steps taken with self-confidence and faith in the ability of the final goal chosen"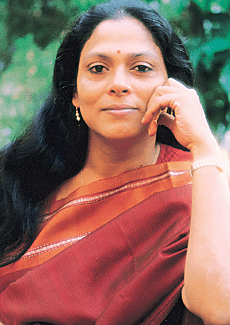 Punja was born in Hyderabad and shifted 13 schools before finally doing MAs in three different subjects. Her first Masters degree was in ancient history from JNU, the next was in education from Stanford University, USA, and the third was in history of art from Baroda. Punja went on to do research in history of art and started working with the Government of India to train teachers on how to understand Indian culture. In the process of this training, she designed educational kits and programmes. She left her job in 1989 to write books. The travelling bug was so strong that she travelled and wrote 10 books in a span of eight years. Her books became quite popular even abroad and were published by Penguin and Viking. Her book on Khajuraho broke fresh ground by challenging the pre-conceived theory on erotica. She also wrote two childrenís books and a book of stories about Hindu goddesses. As suddenly as she had taken to writing, she stopped. While working on her book on Khajuraho, she was drawn into a conservation project.
The work was extensive and did not merely include documenting the temples but looking at the whole area holistically. A house-to-house survey had to be conducted and the water conservation levels had to be tabled. Soil conservation had to be done and temple management looked at. After the project document was ready, it was presented to the President of India. The Madhya Pradesh government, seeing her pioneering work, gave her the job of development and heritage work in MP. Here also, the approach is holistic and includes involving the people of the area in conservation work.
She has been working closely with INTACH and has been elected on its governing council for a second term. She is also involved with work on environment. She feels that people should be proud of their heritage and should be motivated to conserve it. "A lot has to be done but we are moving towards it," says Shobita.
ó Belu Maheshwari