It might be too early to judge the exact cricketing potential of Yuvraj Singh. His performances in the ICC Knockout Tournament, Nairobi, might not have helped India to lay its hands on the glittering trophy but nevertheless his performance must have kindled a ray of hope for Indian cricket. He, together with players like Zaheer Khan and Delhi's wicketkeeper Vijay Dahiya, has brought a whiff of fresh air into Indian cricket, mired as it was over the past few months by the issues of betting and match-fixing. But the Chandigarh-based youngster must be given the right kind of encouragement and the necessary inputs so that he can leave a mark on Indian cricket unlike his father, former Test cricketer Yograj Singh, who in spite of abundant talent unfortunately could never realise his full potential. Many would be surprised to learn that Yograj had shared the new ball with Kapil Dev in a Test on the 1980-81 tour of New Zealand at Wellington, where he claimed one wicket. But after that, as Kapil went from strength to strength, Yograj slowly faded away from the international scene.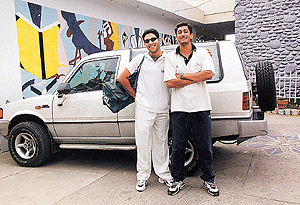 The biggest irony of it all is the fact that it is from Punjab that Yuvraj has played his cricket since the Union Territory does not have direct affiliation with the board. It has produced a player of the calibre who can well become the one big all-rounder Indian cricket has been looking for ever since Kapil Dev and Manoj Prabhakar called it a day from international cricket. It would not be out of place to mention that Punjab is among the few states affiliated to the board which has drawn up a comprehensive programme to train and nurture cricket talent. So much so, the state association has decided to engage a foreign coach to conduct its training programme.
But before he can step into the shoes of players like Kapil Dev and Manoj Prabhakar, Yuvraj will have to work hard, even much more than he had to do to find a place in the Indian squad for Nairobi and then Sharjah. And nobody knows it better than his father who, in spite of the fact that at one time he was rated by the common coach of the two players from Chandigarh to be a better player than the greatest allrounder Indian cricket has produced — Kapil Dev —, was never able to reach his full potential and withered away after playing for a very brief period. Only Yograj will be able to caution his son, who has shown a mature head on his shoulders although at times he does tend to get carried away.
For a nation suddenly short of cricketing icons, Yuvraj is godsend. And one must thank the Union Sports Minister, Sukhdev Singh Dhindsa, for insisting that the cricket board drop players like Mohammad Azharuddin, Nikhil Chopra, Nayan Mongia and Ajay Jadeja, whose names figured very prominently in the issue of betting and match-fixing. Yuvraj Singh got a berth in the national squad only after these players were axed from the Indian squad for Nairobi. Who knows when Yuvraj would have got a look-in if these players had not been forced out of the squad on government diktat! While there is no denying the fact that you cannot keep a good player down, the fact remains that Yuvraj must be thankful to Dhindsa for speeding up his inclusion in the national squad.
It is strange irony that the Nairobi performance of Yuvraj Singh is being compared with that of Mohammad Azharuddin, who had announced his arrival on the international cricket scene with three Test centuries on the trot. No other player in recent times has caught the collective imagination of Indian fans just after a couple of matches as this young lad has. But to live up to the expectations of the fans, Yuvraj will have to work extra-hard and polish up his game. But seeing his hard work one can well deduce that Yuvraj is a good learner and has come out of Nairobi learning a trick or two.
During his record-breaking knock of 84 against world champions Australia, Yuvraj was confidence personified — an attribute which caught the eye of Sunil Gavaskar, who has also played with Yuvraj's father. Yuvraj's 84 was the Indian record for the highest first score by a batsman in one-dayers. Technically the match against Kenya, the first match of the tournament, was Yuvraj's first one-day international. But in that game he did not get an opportunity to bat. Yuvraj followed up his impressive performance against Australia with a rapid 41 in the semi-final against South Africa, despatching the feared Allan Donald to the fence thrice in one over. Later, he turned his arm over and claimed his first international wicket, giving away 15 runs.
But it was in the final against New Zealand that the inexperience of Yuvraj was exposed. Promoted up the order in an effort to step up the scoring, Yuvraj went for very big hits when even singles and twos could have kept the Indian scoreboard ticking, and holed out to Roger Twose after he had scored just 19. However, he bowled very economically, sending down 10 overs for just 32 runs. And throughout the tournament, his fielding was of a very high order, a very important requisite for playing international cricket.
But the young lad from Chandigarh, who like Kapil has attended DAV College in Sector 10, has come in for some lavish praise from his rivals. Australian captain Steve Waugh admitted that his team had failed to unnerve Yuvraj. "He was tough," Steve Waugh said after the match. "We did try our best to play on his nerves but he cared little. His bat did the talking for him," Steve added. Fast bowler Glenn McGrath gave the youngster a few mouthfuls after he was hit for boundaries, but Yuvraj did not react.
A lot of credit for grooming and nurturing Yuvraj goes to his father. Yograj provided the right cricketing environment for his son with a pitch in the backyard and the best cricket equipment. "I used to make him eat cricket, drink cricket, sleep cricket and dream cricket. It sounds crazy, but as a young man he did what I told him. It was 24 hours of cricket for the two of us," Yograj admitted after Yuvraj's innings against Australia. "To polish my son's skills, I bought a ball-throwing machine (a gadget which even many state associations do not possess) and had a cement wicket prepared." However, it was not cricket but skating that caught the youngster's fancy. When he was 14, he won a gold medal at the Asian Skating Championships. People questioned Yuvraj's sincerity to cricket and Yograj was hurt. He spoke to his son about it. It did the trick as the teenager vowed to concentrate on cricket.
Since then his progress in the game was rapid. He made his first class debut in the 1996-97 season in a super league match against Orissa at the PCA Stadium at SAS Nagar. Yuvraj would, however, like to forget that match as a bad dream as Debashish Mohanty dismissed him for a duck in the first innings. And that brought to a halt his progress in first class cricket as he was dropped from the team for the next match. He had to wait till the 1999-2000 season before he got the nod of the Punjab selectors again. His recall was based on some big scores and big hitting in junior cricket.
Besides his father, Yuvraj owes a lot to SAI cricket coach Sukhwinder Bawa, son of a former hockey Olympian. Sukhwinder Bawa, who played for Indian schoolboys but could never graduate to first class cricket because of injury, probably found in Yuvraj the perfect student to make his cricketing dreams come true. He lavished all his time on the young left-hander once he could get Yuvraj to take to the game seriously. Originally, Bawa was posted at the Sector 16 Cricket Stadium, from where players like Kapil Dev, Yograj, Ashok Malhotra and Chetan Sharma had graduated to the highest level of the game, but later he was shifted to the Sector 8 DAV School. It was under Bawa's tutelage that Yuvraj took serious interest in fielding. A keen student of the game, Bawa knew that fielding was the most important aspect of the game which one had to master if the player wanted to leave a mark in one-day cricket. And it is in this department that Yuvraj scores ten out of ten. Earlier Yuvraj used to bowl fast, but in the 1996-97 season he opted to bowl left arm spin. Apart from coaching Yuvraj, Sukhwinder Bawa has become his friend, philosopher and guide and this relationship is now paying rich dividends.
The innings that signalled his maturity was the 278-run knock that he scripted against Railways in a quarter-final match of the under-19 Cooch-Behar Tournament. In the same tournament, he had a score of 140 against Bengal in the semi-finals and made 54 against Rest of India in the Chidambaram Trophy. Last year in the Cooch- Behar final, he scored 358 in 579 minutes against Bihar at Jamshedpur to help his team to win the trophy. Incidentally, Bihar had scored 357 runs in their first innings.
This year he was recalled to play for Punjab against Hyderabad in a Ranji Trophy super league match at SAS Nagar. He did not do anything spectacular in the only chance he got to bat in a rain-hit tie. But in the second match, against Baroda, he scored 25 and 31 not out and took one wicket and just about managed to retain his place in the state squad. In the last super league match against Railways, showing grit, determination and application, Yuvraj came good with 54. In Punjab's last Ranji trophy match of the season, against Tamil Nadu, he scored 44 and 24, as Tamil Nadu won the quarterfinal tie by seven wickets. So far he has played 10 innings in seven Ranji Trophy matches, remained not out once, and scored 397 runs at an average of 44.11. His knock of 149 against Haryana at Gurgaon is so far his highest score in the National Cricket Championship. But in cricket, statistics reveal only one side of the picture. They do not reveal the player's commitment and his application, qualities which Yuvraj has in abundance.
Yuvraj's show in the last domestic season apart, his performance in the under-19 World Cup in Sri Lanka in January caught everyone's eye. He scored 203 runs in seven innings at a strike rate of 103.57 and an average of 33.83 and bagged 12 wickets at 11.50 with best figures of four for 15 to play a steller role in India's title win. It's not surprising he was adjudged the man of the tournament. It was probably this performance which brought him into national reckoning. Also, it was this effort which saw him being selected for the National Cricket Academy at Bangalore.
Like his father, who quit the game to make a name for himself on the Punjabi silver screen, Yuvraj is tall and well built, which helps him to play with minimal effort. His timing has drawn praise from the game's pundits like Sunil Gavaskar, Ian Chappell and Geoff Boycott, all members of the TV commentary team at Nairobi. Roger Binny, former India all-rounder and coach of the under-19 World Cup team which played in Sri Lanka, had a word of caution for Yuvraj soon after India won the tournament largely due to the all-round efforts of the Chandigarh youngster. "Once you get to the next level of the game, the bowling will not be so loose. It is much tighter and you will get lesser balls to strike. You will have to choose the right shots to play, the right ball to hit." Prophetic words and perfectly said. At Nairobi, Yuvraj must have learnt it the hard way that all deliveries are not to be hit.
Yograj has set his eyes on his son scoring more than 15,000 runs and claiming 300 wickets. Yuvraj is extremely lucky that, largely due to his father, he has been able to pick up important tips of the game from legends like Bishen Singh Bedi and Navjot Sidhu. What he has picked up from them should stand him in good stead in the years to come. But more important than all this is the belief and self-confidence that his father and coach have drilled in him. And to back up all this, he has the support of his family and the millions of fans who are all praise for his superlative hitting at Nairobi.