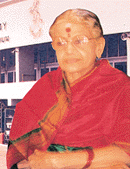 We talked about certain trends in Carnatic music. Did she agree with the views expressed by some vidwans that female singers had to face discrimination to the extent that accompanists were unwilling to perform with them? There might have been some discrimination in the past," agreed MS. "Quite often, male artistes were paid more for concerts. But today, by and large, there is no discrimination. Women singers hold their own and face no problems."
What was the future for Carnatic music? Was it losing its appeal? Were today's singers satisfied in singing selected, old, popular songs and were unwilling to experiment? Have audiences at music halls changed over the years? MS took her time to discuss these issues. She had not been singing in public for the past three years and said she would not like to comment on today's audiences. But music lovers in the past were more hard to please and could not be taken for granted. "They knew so much about Carnatic music," recalled MS. "We were quite nervous about facing them before major programmes."
MS was never one for singing only the traditional favourites and making museums of concert halls. Music was her message. She followed the tradition in singing kirtans but opted for innovations while doing swarams and niravals. "One should always end a programme when the audiences in a mood for more," she laughed. "I always did so, after acceding to some of the request from listeners."
For years, MS was India's music ambassador to the rest of the world. She sang in all parts of India, at the USA, UN, Europe, London, Moscow, Cairo and so on. Did she have to make special preparations for foreign concerts? "For my North India concerts, I chose more of the popular Hindi bhajans," explained the singer. "While planning for concerts abroad, some people thought I should sing more light numbers. But the late C.Rajagopalachari (Rajaji), a family friend, advised me to be as traditional as possible. So I sang many varnams, and elaborate ragam, thanam, pallavi items which were widely appreciated."
Suddenly I remembered the famous 'Mangheshkar monopoly' of Mumbai where it was alleged that Lata Mangheshkar and her sisters had tried to put down their rivals in playback singing. MS also had some famous contemporaries, D.K.Pattamal, M.L.Vasanthakummari, N.C.Vasanthakokilam and so. How did they get along with each other? Any mutual jealously? MS was shocked. "Never, never, we were friends. We appreciated each others' talents and time permitting, attended the concerts other singers."
We then discussed parampara (tradition). "It helped if a singer belonged to a family of musicians." She explained. "But that was not really necessary. If a singer had talent and worked hard, he or she would definitely come up. MS herself was tutored for long periods by her mother, the famous veena vidwan, Shanmukhavadivu after she spent sometime under another guru Srinivasa Iyengar. How did the experiences compare? "My mother was fully qualified to teach me," explained MS. "She was a great artiste. But sometimes, an outside guru is better because mothers can be a bit soft on their own children!"
MS who had been honoured with the Padma Bhushan, the Padma Vibhushan and finally the Bharat Ratna, the nation's highest award, was also known as Isai Vani and Kokila Gana Subbalakshmi. She occasionally accompanied her mother of the state cut her first record at the age of ten and performed solo from the age of 16. At the peak of her career she gave four or five full-fledged concerts a month. Some of them went on for five to six and a half hours. Music was her life. A painful arm, high temperature, an attack of typhoid, did not deter her from giving concerts. Her only precaution was to avoid cold food and drink items. Prior to a concert in New Delhi, MS was the guest of Prime Minister Nehru. He fussed around, supervising her diet and saw to it she avoided very cold and very hot food and drinks!
MS also appeared in four films, making her debut in Sevasadanam based on a Premchand novel. She played Shakuntala in a movie of the same name, with another famous singer G.N.Balasubramaniyam as Dushyant. MS appeared as Narad Muni in the movie, Savitri and donated her fees towards starting the Tamil magazine, Kalki. But her greatest role was that of Meera in a movie of the same name made in both Tamil and Hindi. The film and its wonderful music impressed Nehru, Gandhi, Sarojini Naidu and other top leaders. "If only we had leaders like them, all our problems would be solved in no time," sighed MS.
Many scenes of Meera were shot on the desert sands of Rajasthan. The schedule was tough but she did not flinch. MS spoke her own Hindi dialogue, after being coached in the language by scholars Amratlal Nagar and Dilip Kumar Roy. Her identification with the role was total. Ecstatic fans in Bhopal and other North Indian cities rushed to meet Meerabai with offerings of flowers and fruit. She was often mobbed.
MS was 24 when she married Cadasivam who was 14 years senior to her. A great lover of Carnatic music, Sadasivam became her mentor and music manager. He organised the concerts, checked the halls and selected the songs for each concert. Just before a programme commerced, he had people sit in each and every corner of the auditorium to check its acoustics. He saw to it that the colour of the curtains was in harmony with the overall effect. With Sadasivam taking care of all this routine, MS could concentrate on her singing. I asked her if her husband did not control her creative urges. "Never," declared MS. "You see, he put himself as a part of the audience and this helped him to choose the songs for each and every concert." Explained Kalki Kannan, a family friend "Sadasivam was responsible for MS reaching great height in Carnatic music. Because of his help there was never a 'bad' MS convert, only very good and excellent".