THE TRIBUNE MAGAZINES
On Mondays


On Sundays

On Saturdays


Sitaram Kesri dead
NEW DELHI, Oct 24 — Former Congress President Sitaram Kesri died at the All India Institute of Medical Sciences here tonight after prolonged illness, AIIMS spokesman B.K. Dash said. Kesri breathed his last at 2330 hours.


Parrikar sworn in Goa CM
Sardinha quits ahead of trust vote
PANAJI, Oct 24 — BJP leader Manohar Parrikar was sworn in as the new Chief Minister of Goa today. A 14-member council of ministers was also sworn in at a simple ceremony at Raj Bhavan here.
In Health Tribune today
IN PASSING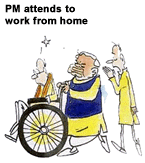 After operation knee, it's time for operation government !
by Sandeep Joshi
Hukamnama on langar relaxed
AMRITSAR, Oct 24 — Giving a new turn to the controversial "hukamnama" (edict) issued by the then Jathedar Akal Takht Bhai Ranjit Singh on "langar", the five Sikh high priests gave relaxation to the handicapped or sick devotees from partaking of langar while sitting on the floor.
Puar, Sarao arrested, released
PATIALA, Oct 24 — The Vigilance Bureau today arrested former Punjabi University Vice-Chancellor Joginder Singh Puar and former Registrar Ranbir Singh Sarao, besides three other senior teachers, with regard to a case registered against them for "irregularities" conducted in the hosting of the National Science Congress in 1993 . All of them were released later following the presentation of a security bond of Rs 50,000 each .



White tiger cub is no more
CHANDIGARH, Oct 24 — Gloom descended on Chhat Bir Zoo today. It was 90 minutes after midnight when the white tiger cub, Julie, collapsed and died in the Deputy Director's office which had been converted into a makeshift intensive care unit.
EARLIER STORIES
(links open in a new window)
ULFA militants massacre 15
October 24, 2000
Advani rules out talks on J&K
October 23, 2000
2 BSF jawans die as IED explodes
October 22, 2000
Power panels must for incentives
October 21, 2000
17 militants killed in J&K
October 20, 2000
12 top militants surrender
October 19, 2000
Israel, Palestine agree to end violence
October 18, 2000
5 Pak soldiers shot, attack repulsed
October 17, 2000
350-cr relief for Punjab
October 16, 2000
RSS attacks BJP on Ayodhya
October 15, 2000