Maniam is a whole-time writer. Despite having many titles to his credit and a few literary awards, he has to supplement his income by teaching English. He did a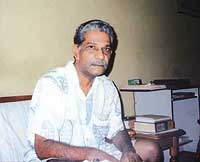 yearís training to be a teacher in Woolverhampton and taught in Malaysian schools. Creative writing began with collections of short stories and plays. Two novels The Return and In a Far Country established his reputation as a writer of fiction: both novels are taught in universities of Malaysia, Singapore and Australia.
Maniam is in his early 60s. He is a stocky, swarthy man with a shock of grey hair. He lives with his wife Saroja, son Ramajuna and daughter Usharani in Subang Jaya Selangor. The remarkable thing about this man is that his grandparents emigrated to Malaysia as labourers indentured to work in tea estates owned by the English; today he teaches English to English, Australian and Asian boys and girls. A part of this story is told in his autobiographical novel The Return (Skoob Books). Young Maniam has left his Tamil school to join an English-medium one. His English teacher is a Eurasian woman named Nancy. Besides teaching them English fairy tales and nursery rhymes, she teaches boys how to use toothbrush and paste instead of ash smeared on the index finger, use of shampoo for the hair and soap for the body. This creates tension between families which are used to the Tamilian way of life and those which are becoming anglicised. The following repartees take place between Maniamís father and a neighbour: "You stay home from now on! Donít join the riff-raff!" my father shouted from the front room. "Whom are you calling riff-raff?" Govindan, Ganeshís father, called from his house. "Iím teaching my son manners", my father said quietly. "And how do you think I raise my family? On the white manís ideas? Soon your son will be wiping his backside with paper!" Govindan said. "Itíll be cleaner than your mouth", my father said.
Maniam writes with sensitivity and has a picaresque sense of dry humour. He also paints in words the Malaysian countryside with great skill.
Meeting Varun Gandhi
He did not know I was present at his book launch. He read my name among those present in the papers next morning and asked if he could drop in to see me. He spent over an hour with me. He did indeed resemble his late father, only an inch taller and more handsome. He even had the slight Byronic limp that Sanjay had. And like his father, he is a teetotaller; and like him refused tea, coffee or cold drinks: simply had a glass of water. I asked him what made him take up writing poetry. "I went to Oxford to see Christ Church College which had given me admission. I found it too huge for comfort, grey and cold. I decided against it and returned to the London School of Economics. Thatís when I wrote my first poem. I was only 17".
Sometimes I wish I lived alone
And no one came by
It would be nice
To breathe alone
All my thoughts in solitude
And then it seems like being all alone
Is like being in a crowd
My thoughts trapped in confusion
Like a kite caught in the sky
Imagine being caught in the sky...
He read it out to me. Then added, "Would you like to know which was the last one I wrote before this collection was completed?" I nodded. He read:
Hope is the need to be surrounded
To know that I will lose again
Do you know that
Your eyes lean on me like the
Atrophy of season
And that moods are fears
Before they are moods
If the sea is strength
Why must it protect the forbidden
It was too long
That I asked you to destroy me
It took me a while to see
That surrender is not armour.
There was no stopping him. He went on to reading his favourites. I will quote one:
Blood shot tears
All indulgence
Retreating into image
Towns always making the same mistakes
I confess
I am a little in love with my sin
As I stray
I am told
Donít think but look
The walk must show the way
So thereís no accountability
A stranger is just a victim you havenít met
Thatís all there is to it
Shadows cover the area surrendered
Itís only really fear when realised alone
Sometimes I walk the secret way
Is it fate or is it me
Stopping to watch the prince of wounds
There is nothing left to understand
You and I
Feeding the comedian his lines.
I was itching to ask him the question uppermost in my journalistic mind: "Did he plan going into politics?" I thought it would be bad manners to do so. But the way he talked about the sorry state of the country and what needed to be done, left me in no doubt that he would enter politics in not too long a time. If he does, he will give his cousins Priyanka and Rahul run for all they are worth.
Knee problem
The same time as Prime Minister A.B.Vajpayee had his knee surgery, two friends were undergoing the same kind of surgery: Advocate General Soli Sorabjee in the same hospital and Mujtaba Hussain, the eminent Urdu writer, in the AIIMS in New Delhi. Apparently knee problems are quite common.
K.L. Chugh, who lives in Kalkaji (New Delhi), has sent me a home remedy which he assures will reduce all body pains. I pass it on to my readers: Soak a spoonful of methi (fenugreek) seeds in half a glass of water at night. Next morning boil the water till half of it evaporates. Add water and sugar to taste and consume the lot, including the remains of the methi seeds. Take this for two months and the pain will disappear.