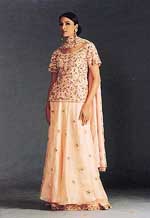 "In the mid-nineties, however, this laidback scenario began to change. Designers began to rise on the horizon of the fast-developing fashion industry and, in time, each made a name for himself or herself. The look, the colour and more emphatically the kind of embroidery began to be branded and was recognised as the work of a specific designer. Brides from well-to-do families began to patronise their designers. As younger heroines came into technically superb films, the wedding or party clothes worn by Madhuri Dixit, Kajol, Aishwarya Rai, Manisha Koirala, Karisma Kapoor and others became the rage of society weddings. Indeed, Madhuri's purple outfit in Hum Apke Hain Kaun set a trend for purple that year. Aishwarya's peach outfit in Aur Pyar Ho Gaya created an excitement among the brides of that year. Today's films, which are called 'wedding videos' in humour, have many designers working for the heroines, and brides love to follow the trend set by stars."
However, Pallavi follows her own genius. Her embroidery tilts towards European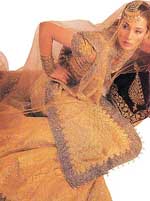 work but the clothes are very Indian. "I don't mess around with the basic bridal look. The flared ghagra and the fitting choli is the right outfit for a bride but variations in chunnis and cholis are possible. I decide the outfit, the fabric, the colour and the look depending upon the season, the venue, the bride's personality and of course, her budget. Sometimes, I do the bridegroom's or the entire bridal party's clothes. I also advise on jewellery and accessories. It is difficult to record or photograph such exclusively created clothes because brides are very superstitious about the clothes and do not want models to wear them. The clothes are actually packed away from prying eyes and brought out just before the wedding."
Pallavi has a workshop where 150 karigars are employed the year round. More recently, she opened her boutique in central Mumbai to showcase her clothes in the affordable line. "My shop reflects my personality in the best way," she says.
Pallavi, Abu Sandeep and Tarun Tahiliani are holding up the wedding fashion industry on their able shoulders. Though other designers also do bridal outfits, they are recognised as the best. Now with the winter marriage season setting in, no doubt they will be kept busy! Down the social ladder, in the middle class, brides choose copies of designer clothes in high street stores or get them made by their family tailors, keeping in mind the trend shown by the designers.
Your invitation to the wedding ...
Beginning with a home-based small industry, Minal Desai has become a well-known wedding stationery designer. Here is a glimpse of the business route she took, and the success she enjoys today.
At the wedding of Rajat Barjatya, scion of the Hindi film industry's premier family — the Barjatyas of Rajshri Productions — the decor and the stationery were two items which drew the attention of art cognoscenti. While the decor was designed by artist Aruna Purohit, the cards, bags, envelopes and letter designs were created by a modest woman who has built a burgeoning home industry as a designer of exclusive cards, bags, packaging and other auspicious paper items needed for a wedding.
Minal Desai, married for 19 years, had never thought that she would one day

become designer to some of the most prestigious shops and families for their stationery and gift-wrapping. "My mother had this artistic gift of creating ethnic gift bags and cards and I must have learnt by watching her or I must have inherited her aptitude. I used to make cards or gift boxes for my friends till one day, a friend asked me to go commercial. I got my first order from the Catholic Gymkhana in Mumbai for mithai boxes. Word-of-mouth publicity gave me instant encouragement and I was on my way to becoming a well-established entrepreneur. I took a short course in craft from Nirmala Niketan in 1994 and the next year, started my business. I make cards, eco-friendly boxes and bags, stationery and gift-wrapping items.
"Today, in five years, my business has grown 500 times. I get cardboard, Ganesha and Lakshmi icons, jute fabric, acrylic, cotton and silk fabrics, basketry, paper, dry flowers, ribbons, beads, silver trinkets, stones, shells, chattai and readymade bows from all corners of India. I use these in designing boxes and bags. I have a catalogue of designs from where clients choose their style. I manage my production with a team of three live-in bais and seven karigars who come in each day. Large orders are executed in the family factory and delivery is taken by clients who pay on time. This way, I'm happy and my clients are satisfied. I have worked for Sindhi, Punjabi, Marwari clients and a number of corporates. For those who prefer western-style bags and gifts or cards, I create beautiful designs with flowers and bows. But my major business is in ethnic designs." Minal says, as she looks forward to expanding her company.
— VP
The pleasure of your company
Did you know that Rashtrapati Bhavan banquets given by the President of India to visiting world leaders or royalty are governed by three different coloured lights? Reportedly, they are blue, red and white and each goes on when a course is in progress, a course is over and a fresh course has to be served. This was so also at the recent banquet given by President Narayan to the visiting US President Bill Clinton and his family.
"The man with his finger on the switches watches the celebrity chief guests' plates and whenever they put their forks and knives down, turns on the light for removal of plates," says Ranjana Salgaocar, author of The Pleasure of Your Company, one of India's most successful books on etiquette and manners for all occasions, "If other guests have not kept pace with the honoured chief guests, it is too bad for them for they cannot continue to eat a course of food when the celebrities are twiddling their thumbs." The book also teaches personality enhancement through social graces and public relations through properly designed entertaining and hospitality, which are a modern gateway to global business.
Ranjana has written the book after personally experiencing the entertaining system in the Rashtrapati Bhavan and at the Prime Minister's Hyderabad House parties because she comes from an eminent family and is married into the famous industrialist family — the Salgaocars of Goa. "My father was a commissioner of police. So we travelled a great deal on transfers and had a busy social life. Whenever I went to parties or formal occasions with my father, I would wait for him to deal with the situation at the dining table or at the party and then copy him. At home, I would make small notes on the rules and regulations of social life and the protocol observed on important occasions. These notes just kept piling up until four years ago, I thought: Why not put them together as a book! I began working towards this objective and in 1996, The Pleasure of Your Company was published by us and distributed by the IBD".
Ranjana's very useful and timely book features table manners, weddings and theme parties for all occasions, proper use of expensive China, linen and cutlery. It offers a guide to wines, cheeses, liquors, liqueurs and food. It describes social graces, Indian and western hospitality traditions, and gives tips on acquiring a gracious social personality. The book is a veritable manual on behaviour in a world which is becoming smaller by the day.
As an offshoot of this book, Ranjana became involved in yet another interesting activity. "Many people asked me to do workshops for them. But I picked and chose those I wanted to do. In the past four years, I have conducted about 20 courses for corporate executives who have to do business abroad or entertain in the course of their business. A company is free to invite spouses to these sessions if they wish. But I don't do courses specially for women separately. There are finishing schools for women to receive similar education. But for men who are upwardly mobile and have to travel for business, these workshops are extremely useful".
—VP