Cauliflower koftas
Ingredients:
1 medium-sized cauliflower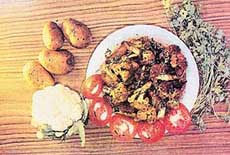 250 gm cottage cheese (paneer)
2 slices bread
2 tbsp maida
½ tsp garam masala
½ tsp coriander powder
1 tsp salt
½ tsp chilli powder
½ tsp amchoor
1 tsp refined oil
Oil for frying
For gravy:
2 tbsp refined oil
A pinch of asafoetida
100 gm curd
½ tsp turmeric powder
½ tsp chilli powder
1 tsp coriander powder
1 tsp ginger paste
Salt to taste
1 tsp garam masala
few drops of saffron essence
Method:
Grate cauliflower finely. Heat 1 tsp refined oil. Add grated cauliflower and stir until moisture evaporates. When it is cool enough to handle, add grated paneer, bread slices soaked in water and squeezed dry, salt and spices. Mix well to make a dough. Take small portions and make lemon-sized balls. Roll in maida and deep fry in hot oil till golden brown. Keep aside.
For the gravy:
Heat refined oil in a karahi. Add asafoetida. Beat the curd and add all spices except garam masala and saffron essence. Stir fry till oil surfaces. Add 1½ cups of water and let it simmer for 5-10 minutes on a low flame. To serve: Place koftas in a dish and pour hot gravy on these. Add saffron essence and garnish with whipped cream and coriander.
Gobhi Exotica
Ingredients:
2 medium cauliflowers
8-10 baby corns
10-15 mushrooms
1tbsp butter
3 slices of bread
1/4 cup grate cheese
1 cup chopped coriander and mint leaves
Refined oil
For the sauce
2 tbsp butter
1/4 cup cream
2 tbsp maida
1/4 tsp chilli powder
2 cups milk
½ tsp salt
1/4 tsp pepper
½ cup grated cheese
Method:
Wash and cut cauliflower into florets. Boil in salted water for 2 minutes. Drain and put in cold water. Keep these aside. Halve mushrooms and parboil mushrooms and baby corns till tender. Heat butter, add chopped coriander and mint leaves and cauliflorets, mushrooms and baby corns. Toss for 2-3 minutes and set aside.
For making sauce:
Melt butter in a pan and add maida. Roast maida on a low fire and add milk slowly to avoid lumps. Keep stirring till the mixture comes to a boil. Add salt and pepper. Add cheese and remove from fire. Mix well.
Mix all vegetables in the sauce and put in a baking dish. Sprinkle 1/4 cup grated cheese on top. Keep in a pre-heated oven and bake at 180° C for 20 minutes. Serve hot.
Gobhi phirni
Ingredients:
1 litre full cream milk
1 kg cauliflower
150 gm sugar
1 tbsp ghee or white butter
kewra flavour - 3-4 drops
chopped pistachio - 1 tbsp
Silver leaf
Method:
Grate cauliflower. Heat butter in a pan and saute over a medium heat for 5-6 minutes. Cool and blend in a mixer add a little milk to make a smooth paste.
Boil milk in a thick-bottomed pan. Add cauliflower paste and sugar and let is simmer. Stir continually so that there are no lumps as the mixture thickens. Boil till it is reduced by one-third. Add kewra flavour.
For serving: Take small earthen bowls and put a little bit of phirni in each. Decorate with chopped pistachios and silver leaf. Keep these bowls in the freezer and serve the phirni chilled.
Baked cauliflower with sauce
Ingredients
1 medium sized cauliflower
4-5 tomatoes
1 tsp - ginger paste
2 tbsp - refined oil
1 tsp garlic paste
1 cup grated cheese
2 green chillies (chopped)
2 tsp lime juice
1 tsp pepper
1 tsp garam masala
½ tsp chilli powder
1 tsp salt
Method:
Keep the cauliflower whole. Cut the stem as close to the flower as possible. Give a crosswise cut on the base of the cauliflower. Wash and dry it. Mixed ginger and garlic paste and add chillies, garam masala powder and lime juice. Insert the paste between the florets. Place the cauliflower in a bowl, keep the stem downwards. Transfer this to a trivet in the pressure cooker. Add 3/4 glass of water and steam for 2-3 minutes at full pressure. Grease a baking dish. Put the cauliflower in it and pour the sauce on it. Pierce the cauliflower with a fork lightly. Bake for 15 minutes at 180° C in a pre-heated oven. Sprinkle garam masala powder and garnish with chopped fresh coriander.