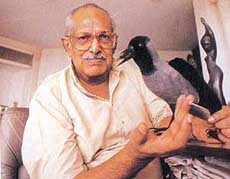 Trained in the Bimal Roy school of thought, it was but natural for Hrishida to portray women in his films with lot of care and caution, respect and reverence, in tune with Indian culture and traditions. Anuradha (1960) made by Hrishida was a tale of alienation between husband and wife. The heroine — a singer — marries a doctor but soon plunges into boredom as her husband busies himself with his philanthropic healing/pursuits. In the end, Anuradha realises that her sacrifices are very little compared to the magnitude of her husband's work for the poor. Anupama (1966) was a heart-rending story of the bewildered beauty Sharmila Tagore — whose father Tarun Bose — hates her because her birth had caused his wife's death. Abhimaan (1973) depicted clash of careers of husband and wife. It was the story of a successful singer (Subir)'s — jealousy and resentment towards his devoted wife, Uma, when she overtakes him professionally. Milli, was the tragedy of a terminally ill girl who succeeds in reforming a young man, at war with himself and the world at large, suffering for the sins of his parents.
Hrishida's traditions of making films that stressed upon the sanctity of love and human relationship, general values of honesty and truthfulness and importance of friendship and brotherhood. His films not only highlighted the eternal values of life but also entertained and amused the cinegoers and enriched their life. People still become misty-eyed while recalling the death scene of Satyapriya — the hero of Satyakam — an engineer by profession who dreams of a country free of corruption, but is shattered and dies heartbroken when he finds corrupt and dishonest outnumbering the honest in his motherland. He could not imagine a free country where dishonesty and corruption are the rule, and honesty an exception.
Namak Haram (1973) — delineated the conflict of conscience between two friends — Somu belonging to the working class and Vikram — a capitalist. In the given situation, Somu prefers death to disloyalty and betrayal. In Bemisaal (1982) — Amitabh — an adopted son, allows his benefactor's kin (Vinod Mehra) to walk away with the woman he loves (Rakhee and leaves no stone unturned to keep his foster brother's doddering conscience and marriage alive.
Hrishida's popularity as a film-maker reached the pinnacle of glory when Raj Kapoor Nutan starrer Anari based on ramifications of spurious drugs won the coveted National Award and it peaked with breezy comedies based on human whimsicalities, follies, and foibles. Guddi, Bawarchi, Chupke Chupke, Golmaal, Jhooti, Naram Garam, Kissi Se Na Kehna, Budha Mil Gaya etc.. all these films took off on quirks that make one man different from an other. These comedies evoked riotous laugh but also highlighted the universality of sentiments like respect for elders and love for the downtrodden. It went to the credit of Hrishida that he set the trend of making sensible and sensitive films which entertained the masses without resorting to the gloss cliches of mainstream cinema. It was no mean achievement.
As long as Hrishida was active on the film scene, he sustained the trend and inspired a genre of films. However, with the dominance of violence and vulgarity, the popularity of Hrishida suffered a setback and the main reason for the failure of his films at the box office was the shift in the audience's allegiance from the cinema of social values to that of glitzy action and senseless Maar Dhad.
Hrishida was the first director to see potential in Amitabh Bachchan and cast the intense actor with brooding eyes in the coveted role of Babu Moshaiy in Anand and later on helped him consolidate his position with a better performance in Namak Haraam.Incidentally, Namak Haraam, led to the historic reversal of fortune with which began the downslide of the superstar Rajesh Khanna. Other film-makers exploited Amitabh's image of the angry young man and reduced him to a fightmaster. With Hrishida, Amitabh always performed emotional and comedy roles which did not require him to hold a gun and scream expletives at the world at large.
Rajesh Khanna, the most romantic hero of his times won accolades for his performance in Anand, even without the presence of a heroine. Hrishida was also responsible for presenting Dharmendra as a tragic hero in Satyakam, a dejected lover in Anupama and a bubbly professor in Chupke Chupke. This was the kind of influence Hrishida wielded in his heyday as a director.
In the span of 40 years, Hrishida made some 40 odd films. His work as a director includes, besides the films already mentioned, outstanding films such as Anari, Chayya, Mem Didi, Asli Naqli, Sanjh Aur Sawera, Gaban, Manjhli Didi, Ashirwaad, Chaitali, Arjun Pandit, Alaap, Jurmana, Rang Birangi, etc.
His last film Jhooth Bole Kauwa Kaate failed to attract the attention of the masses. Viewers who have been accustomed to cheap, loud, vulgar and crude comedies of Govinda and David Dhawan type did not appreciate the subtle and sophisticated comedy of Hrishida. Unfortunately Jhooth Bole Kauwa Kaate made in 1988 did not enjoy the approval that marked Jhooti made in 1983. Hrishida has done enough right from Musafir to Jhooth Bole Kauwa Kaate to leave an indelible impression as a film-maker on the sands of time of the Hindi cinema. The Dada Saheb Phalke Award confirms that. On the whole, triumphs far outnumber setbacks in Hrishida's career — something that most directors of today would envy.