''I came back to Bombay after a year because I was clear that home would be India." She was nurtured in a conventional, middle class family but her parents gave her sister and Githa the right to question decisions affecting them. Her affair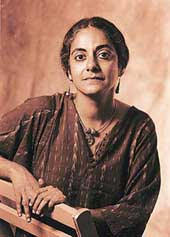 with the word had began as a child, since she was addicted to reading.
After coming back, she freelanced for a women's magazine and then shifted to a publishing house in Madras. Here she became interested in a women's organisation. "Living alone as a single woman brings out a feminist streak in most girls," she observes. She moved to Bangalore after marriage and then went on to do her Ph.D. She continued working and editing during the day and writing at night.
She wrote three books in a decade and brought up her two children as well. Her books were well received. "Finding a publisher for my first book was difficult. My books are mosaics and they do not move in a linear fashion," says Githa. Her books are Art of Dying, Ghost of Vasu Master, Thousand Faces of Night.
Githa is blunt when she talks of the scenario in the area of English writng. "There is too much hype about writing and English language writers in India. If you sell 5,000 copies the book is called a success. Most writers have no grants, no support systems, only a few really earn money. Why do Indians get holier-than-thou about money? For any art to grow, monetary benefits are important,"says Githa. She is happy that she and her husband are leading unorthodox lives and are doing things which give them happiness. They enjoy having friends over, not for small talk but for lively discussions. These days she is busy with another book, which she does not want to talk about yet.
As for fighting for women's causes, she says you can make a difference in a quiet way. "I did not fight the case for brownie points. I felt it was really unjust to deny the mother the same rights as the father even though she brings them into the world and nurtures them. If we are good enough to give birth to our child, we are good enough to be their legal guardians too," says this strong woman with strong beliefs.
Glam boy
Now for some real glamour. We are talking of a model who is on to television, music videos and Hindi films - Jas Arora. In person, he is by no standards a stud with flashing biceps. He is easy-going, talkative and humility personified.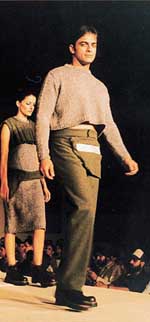 He has been working from class 12 onwards. "I got my first job with a Japanese company. Then I was part of the product launch for the world famous Bose Speakers. My first modelling assignment came later-- it was for Nivea Cream". Jas hit the right note with the music video, Laung Gawacha. He has already worked in six music videos, most of them highly successful. He does not want to dwell on his film debut in Dushman opposite Kajol, as he sang a song and then vanished into thin air. Says this model-star, "As a newcomer you cannot complain, you have to be patient and wait for your day." His next movie is Danger, opposite Tara Deshpande and Ashutosh Rana. "In this film, I am no chocolate hero. The movie has a very strong background music, but no songs."
He likes adulation but it also makes him realise how dependent showbiz people are on it. "You cannot afford to have an attitude, the competition is tough. You have to have good PR and keep yourself fit. No one can survive for long on favours. We have to exercise like hell and cannot keep many late nights. We also keep away from alcohol. There are too many misconceptions about models, but it is like any other job," says the sensible guy.
He is happy that the fashion industry is growing and shows are becoming more professional. These days, the choreography is good and more dramatic and dance movements are being incorporated. Models too can make suggestions and they are not treated like dumbos. Jas has a very healthy attitude to life. "My motto is to spread a smile and treat everyday as a new beginning."
— Belu Maheshwari