Family fortunes
Apropos of the write-up "Family fortunes" by Amar Nath Wadehra and Randeep Wadehra (October 14), the recent winds of change have broken down the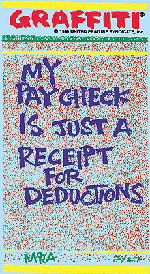 age-old joint family system. With the increasing predominance of nuclear families, family structure has changed beyond recognition. Looking after the elders in the family was not a social problem in the years immediately after Independence. They were heads of traditional Indian joint families and were given the respect and care due to them.
The situation has been further aggravated with the growing industrialisation, increased urbanisation due to rural migration, exodus of rural youth to towns and cities in pursuit of employment.
This has also led to the erosion of moral values which preserved the respect for the elderly earlier. As a consequence, the elderly have been exposed to penury, isolation and infirmities, alienated from society and the national mainstream. Thus the worst hit in the rapidly disappearing joint family system are the elderly who have been left out in the cold to suffer quietly, ignored unprotected and uncared for. Hence the need for revival of the joint family system which the authors also vouch for.
K.M VASHISHT
Mansa
Ups and downs of marriage
The write-up "Marriage with a dash of pepper" (October 14) made interesting reading.
It takes two to make a marriage successful and only one to make it a failure. The secret of success in marriage lies not so much in finding the right person but in being the right person.
Our attitude towards marriage make it heaven or hell.
ANUP K. GAKKHAR
Jalandhar
II
The digs that various literary persons have taken on the institution of matrimony are enjoyable. Here are a few more.
Getting married is like buying on credit. You see something, you like it, you make it your own and you pay for it later.
Man is incomplete until he is married. Then he is finished.
Marriage is a romance in which hero dies in the first chapter.
The women cry before the marriage and the men afterwards.
Marriage is the most difficult, exacting and patience-consuming partnership.
It is not a deal, not a contract, not an arrangement and never a mere experience.
Marriage is the triumph of imagination over intelligence. Second marriage is the triumph of hope over experience.
VIJAY SHEEL JAIN
Ludhiana
III
The write-up reminded me of what the well-known actor, the late I.S. Johar, had to say on the subject. He once commented, "Marriage is like a chewing gum. In the beginning it is sweet, but later you just chew the gum!"
ROSHNI JOHAR
Shimla.
R.K. Narayan
This refers to the write-up "The Grand Old Man of Malgudi" by Rajnish Wattas (October 7).
The article provided a lot of valuable information about one of greatest story-tellers of the 20th century, R.K. Narayan.
I have always been fascinated by his simple and allegorical writings.
It is hard to believe that a writer whose work is read and acclaimed all over the world is a simple and down-to-earth man.
SAMITA SONI
Patiala