Talking about her foray into movies, Rani says she never really planned a career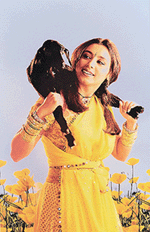 even as she happens to be a cousin of Kajol and her father, S. Mukherji, is a famous film producer. "Like all my friends I was wondering what to do after school when I was offered a role in Raja Ki Aayegi Baraat," she narrates.
"I decided to give it a shot, much to the surprise of all my friends and relatives who had known me to be an introvert. But soon I got friendly with the people around me and started enjoying my job. Today, I feel that if I had chosen any other career, I wouldn't be enjoying myself so much."
There is a flip side to this as well. "I haven't come to terms with nasty reviews and untrue gossip," she says. "I do not know why people do this to me when I am good to everybody. I have never been rude to people when they ask me for photographs and autographs."
Her friend circle, incidentally, comprises associations mostly from her school days. And in the film industry, she admits to sharing a 'special bond' with Aishwarya Rai. "We are more like sisters because we really care for each other," explains Rani.
As for the movies on hand, she points out that there is not much to choose between one role and another because there are few good female parts going. But then, she has been lucky to get some scripts she could sign without a second thought.
"Kuch Kuch Hota Hai was one film I agreed to do as soon as Karan (Johar) narrated the subject because I believed in it," She reveals. "It did not matter that I was playing the second lead (after Kajol) because I was confident that my talent would show through hard work."
Besides, she says, she has a trusting nature and believes that no director would give the "other girl" prominence at her expense. This implicit faith has let her down at times, but she is not one to take names or hold grudges.
"The worst that can happen in the circumstances is that the film would flop," she shrugs. "But I am not one to lose sleep on it. Even as a child, I would hardly react to success and failure. In that respect, I still have not changed my way of thinking."
(MF)