O.P. Jain has himself collected thousands of objects of everyday use. He was also convener of INTACH, Delhi chapter, and has come out with catalogues on trees and buildings in the Lodi Gardens and two volumes on the heritage of Delhi. His own house is a connoisseur's delight and every piece in it tells its own tale. The decor of his study is ethnic.
He is quite positive about India's cultural renaissance. He has "faith in our youth who in spite of wearing western attire are conscious of their heritage, they are questioning the mores of life and through their questions, dynamics of change will emerge. Our culture anyway is resilient, both will go together, jazz and classical, we are seeing a revival of arts in small places."
Painter-writer
Bulbul Sharma is what you can term "a complete woman." She is homemaker, wife, mother, painter, environmentalist, social worker, all rolled into one. She grew up in the steel town of Bhillai, where her parents instilled a sense of self-worth in her. She studied Russian at the JNU. Though it was an unusual choice, she enjoyed spending time in Moscow to master the language. After that, she took a totally different path and went on to train in art and book illustration from the Delhi Polytechnic.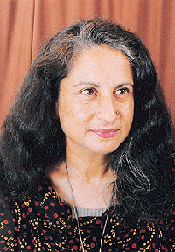 Always a learner, she joined the Lalit Kala Akademi for their course in printmaking and etchings at Garhi, where she worked for four years. In the meanwhile, Bulbul had started painting. She held her first solo show in 1987 and most of her exhibitions centre around a social theme. The last show had paintings which linked the environment to mythology. Her next show in November is to be held by 'Art India' and is titled 'Aranya-Off the Forest'.
Bulbul, has been using her artistic talent to cheer up the lives of physically challenged children. She feels, "God has given me a skill, it should be shared to bring happiness and joy all around." Twice a week, Bulbul goes and teaches disabled children to express themselves through painting at an organisation called 'Aanchal'. She also works for another NGO 'Cry' and makes paintings for their cards to fund mobile creches. Bulbul also takes time out to work with the inmates of Tihar jail, to sensitise them about arts. Her medium in Tihar is clay with which the inmates can make pots and figures. "Ilike to use art as therapy, art is not only for exhibition. By teaching people with problems, I feel I also benefit as a human being, so do they. You can't imagine the joy I get by seeing the mentally retarded children draw with crayons. The minute they see me,they pick up the colours. I also work with hearing-impaired children. This is a single means of expression for them and they are very good."
This compassionate painter is married to a senior correspondent and lives in one of Delhi's posh localities. Bulbul is also an author. She says: "I was always attracted to the written word, I have published three books of short stories. One novel traces the lives of four generations of Indian women, and is about their interaction, and sharing of memories. It shows how it is women who are the link between generations." She is working on another book for Penguin India on India Goddesses — Devis. Bulbul also has a syndicated column on nature and environment. As if this was not enough, she also teaches painting at the American International School. She maintains: "We tend to get a little egocentric, in order to stay on the ground, I need to share my art."
She feels that art galleries have helped by creating wider awareness about art. Youngsters also get to see works of art, whether they buy it or not.
Among her contemporaries, she is impressed by the German Edmund Munch, especially by his wood cuts, and American Georgi Keekfe, who does beautiful flowers. "I am inspired by originality by literature and poetry, they are my muse," says Bulbul. She is a very open person and loves talking, "I jabber a lot", The place that gives her peace is their home in Rajgarh in Himachal, where they have peach orchards and where she wants to grow medicinal plants. "I want to revive the herbs of the region and we are looking for an expert to help us. It is going to be a non-profitable venture. I feel there is so much to do, hope God gives me the strength," says this multifaceted woman.
— Belu Maheshwari