IN PASSING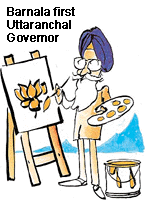 Tough job. Painting a hill landscape with one saffron colour!

BJP-led Goa Govt wins trust vote
PANAJI, Nov 9 — The 17-day-old Bharatiya Janata Party led coalition government in Goa, headed by Chief Minister Manohar Parrikar, today won the vote of confidence in a specially summoned one-day session of the assembly here.
Violence feared in Jharkhand
NEW DELHI, Nov 9 — With the BJP high command continuing to insist to have former Minister of State for Environment Babu Lal Marandi as the first Chief Minister of Jharkhand, there is a serious apprehension of violence breaking out on November 15 when the state comes into being.
Drought triggers migration
HISAR, Nov 9 — The turbulence in several Rajasthan areas is creating ripples in the bordering districts of Haryana, including Hisar, Sirsa and Bhiwani. While many Sirsa villages are witnessing the unusual phenomenon of hundreds of families of shepherds and farmers migrating in the wake of a severe drought in their villages, many villages in Loharu in Bhiwani district have been cut off from the neighbouring areas of Rajasthan.
US presidential battle hangs in balance
November 9, 2000
Recount ordered
November 8, 2000
JMM snaps ties with NDA
November 7, 2000
4 soldiers killed in suicide attack
November 6, 2000
29 killed, 46 hurt in valley
November 5, 2000
J & K minister's brother
killed in blast
November 4, 2000
Cabinet clears DTH service
November 3, 2000
Azhar, Ajay Sharma may be prosecuted
November 2, 2000
CBI names nine foreign cricketers
November 1, 2000
CBI names Jadeja, Azharuddin, Prabhakar
October 31, 2000