Stunning sarees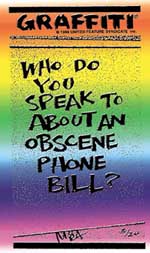 This is with reference to the article "Trendy trousseau", by Vimla Patil in which she has described the experiments being undertaken by superbly gifted and adventurous designers nowadays. The ever-changing fashions add a lot of pep to our lives, saving us from the boredom that would inevitably creep in if we were to wear the same sort of dresses year after year.
So far as the saree is concerned, I think there is no way to actually improve upon it in any way, the traditional way of draping it being already perfect. It must have taken centuries of experimenting to reach this specific way of draping it for optimum effect. It must have been painstakingly evolved to suit the basic physique of the Indian women in general. With a little bit of variation from state to state, its basic guidelines are the same.
AMRIT PAL TIWANA
Kalka
Power of the mind
Apropos of S.S. Negi's article "Heaven and hell — creations of our mind" (October 21), what we think, we become.
If we are weak, the reason may be that we have allowed failure to dominate our thoughts and minds, creating a deep unconscious belief that we do not have the ability to succeed. The solution lies in reversing the mental image of ourselves. This may not be easy because negative mental habits may have channelled deep grooves in our consciousness and our mind will protest a positive reorientation. But we must realise that our mind has been actually lying to us about our real abilities, deliberately causing us to fail.
O.P. SHARMA
Faridabad
II
I fully agree with the writer that heaven and hell are creations of our mind. Nobody has ever returned to this world after his/her death to tell whether he/she had been residing in heaven or in hell.
Plainly speaking, heaven and hell are on this very planet. Only one's good deeds matter. One should think positive and try to find peace of mind to experience heaven.
TARSEM S. BUMRAH
Batala