Questions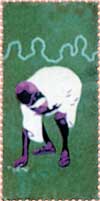 1. Identify the stamp.
2. When was it issued?
3. In what denomination was it issued?
4. To mark which occasion was the stamp issued?
5. How many stamps were issued on the occasion?
6. What is the denomination of the other stamp?
7. What is depicted on this stamp?
8. What is the monetary unit of Zil Sesel Elwannyen?