Monday, November 13, 2000,
Chandigarh, India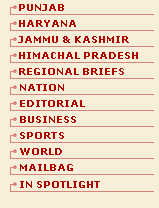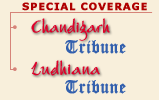 M A I N N E W S
Militants clash with pilgrims
From Varinder Walia
Tribune News Service
NANKANA SAHIB (Pakistan), Nov 12 — At least three members of the Gurmat Gurbani Sant Samaj, led by Baba Mangal Singh Satlani (Amritsar), sustained injuries in a clash with armed militants on the gurdwara premises here yesterday evening.
Though the Pakistan police had made elaborate security arrangements, yet the confrontation continued for more than half an hour. The clash was a result of an exchange of heated words between the militants and the sant samaj. This is for the first time that such a clash took place within the premises of the shrine.
After the nagar kirtan, some activists of a militant organisation, reportedly Babbar Khalsa International, took Mr Surjit Singh, a follower of Baba Mangal Singh, to the first floor of a serai and started beating him up. The militants alleged that Mr Surjit Singh was an "RSS agent" and had come with the jatha to watch the activities of the militants at the behest of some Indian intelligence agencies. However, Baba Mangal Singh, who led the 1000-strong jatha from Wagah, denied the charges.
Baba Mangal Singh and his supporters went upstairs and rescued Mr Surjit Singh from the militants.
Baba Anoop Singh and Mr Virsa Singh of the sant samaj also sustained injuries in the clash. The Pakistan police had a tough time to control the situation. The injured were taken to hospital. The situation remained tense but under control.
Later in the evening, militant leaders from various countries gave inflammatory, pro-Khalistan speeches. Though Gajinder Singh "Hijacker", Chairman Dal Khalsa International, Bhai Mehal Singh and Wadhawa Singh, Babbar Khalsa, Paramjit Singh Panjwar, Khalistan Commando Force Chief, Lakhmir Singh Rode, Chief, International Sikh Youth Federation and Pritam Singh Sekhon, president, Khalistan Liberation Force, were present on the occasion of Gurpurb, they did not give speeches.
Mr Paramjit Singh Sarna, a former president of the Delhi Gurdwara Management Committee, left the venue for a political conference, saying that he could not listen to "anti-India" propaganda. He said he had come only to pay obeisance at Sikh shrines.
Those who advocated the cause of Khalistan including Dr Gurmit Singh Aulakh, president, Council of Khalistan, Jaspal Singh, a Babbar Khalsa leader from the USA, Gurcharan Singh Banwait, Dalbir Singh Nijhar (Britain), Avtar Singh Sanghera, Satnam Singh (Germany), and Paramjit Singh Dhadi.