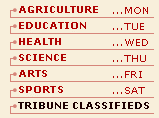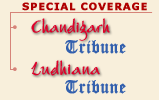 CBI to question Bibi tomorrow
NEW DELHI, Nov 15 — The Central Bureau of Investigation is likely to question Bibi Jagir Kaur, prime accused in the alleged murder of her daughter Harpreet Kaur, in the Capital on Friday.

Sonia trounces Prasada
NEW DELHI, Nov 15 — Mrs Sonia Gandhi was today re-elected Congress President, trouncing her rival Jitendra Prasada by a massive margin of 7,354 votes.
Rajkumar released
BANGALORE, Nov 15 — In a sudden development, Kannada superstar Rajkumar, held hostage for 109 days by forest brigand Veerappan demanding release of his associates jailed in Tamil Nadu and Karnataka, was freed along with another hostage, Nagesh, apparently without the outlaw's major conditions being met.
Bush, Gore move Florida SC
WASHINGTON, Nov 15 — In a fresh turn that could break the deadlock on US presidential poll outcome, rival hopefuls for the White House, Republican George W. Bush and Democrat Al Gore, turned to the Florida Supreme Court seeking its ruling on the legality of hand counts sought by the Democrats.
Fiji HC reinstates Chaudhry govt
SUVA, Nov 15 — Fiji's high court ruled today that the government ousted by the military after a coup on May 19 was still legally in power. Justice Tony Gates found that Ratu Sir Kamisese Mara remains Fiji's lawful President and that Parliament legally was still intact.