IN PASSING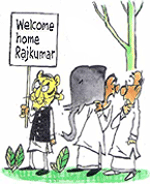 We want to provide a forest like atmosphere at home also!

Haryana staff begin strike
CHANDIGARH, Nov 16 — Haryana Government employees belonging to the general categories and backward classes based in Chandigarh and Panchkula restarted their pen-down strike from this afternoon to press their demand for the implementation of the Supreme Court judgement in the Ajit Singh Janjua case on accelerated promotion to the Scheduled Castes employees.
Gujarat HC orders fresh charge sheets
AHMEDABAD, Nov 16 — The Gujarat High Court has asked the Sessions Court to file fresh charge sheets against 11 accused, including former Minister of State for Defence Harin Pathak and Gujarat Health Minister Ashok Bhatt, in a case pertaining to anti-reservation riots in 1985 in which a policeman was killed.
Delicacies for wedding of Lone's son
JAMMU, Nov 16 — Supporters of Mr Abdul Gani Lone, Chairman Peoples' Conference and a senior leader of All Party Hurriyat Conference, are said to have carried bundles of "nadru: (lotuo stom), considered to be one of the Kashmiri delicacies, and "moval" (cook's comb), used as a colouring agent in "wazwaan", to Muzaffarabad, capital of Pakistan occupied Kashmir, where Mr Lone's son, Sajjad, is getting married to JKLF supremo, Amanullah Khan's daughter.
Bibi gets bail
November 16, 2000
Marandi sworn in CM
November 15, 2000
CBI charges Jagir Kaur with daughter's killing
November 14, 2000
Militants clash with pilgrims
November 13, 2000
Tarar promises Sikhs facilities
November 12, 2000
Bush camp asks Gore to concede defeat
November 11, 2000
Bush has razor-thin lead
November 10, 2000
US presidential battle hangs in balance
November 9, 2000
Recount ordered
November 8, 2000
JMM snaps ties with NDA
November 7, 2000
4 soldiers killed in suicide attack
November 6, 2000