IN PASSING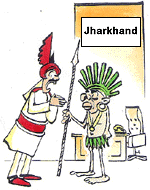 Sir, please forget your past. You are a minister now!

ULFA kills 7 non-Assamese
GUWAHATI, Nov 17 — In yet another attack on non-Assamese communities, the banned ULFA militants shot dead seven persons, including a woman and her three children, and injured three others in upper Assam's Sibsagar district yesterday, the police said here today.
Tremor shakes Delhi
NEW DELHI, Nov 17 — An earthquake of slight intensity shook the capital late tonight. There was, however, no immediate report of harm to human life of property.
Pak 'willing' for talks on Kashmir
DUBAI, Nov 17 — In a shift from its emphasis on United Nations resolutions to find a solution to the Kashmir issue, Pakistan appears to be willing to look at a negotiated settlement of the dispute, according to All-Party Hurriyat Conference (APHC) leader Mirwaiz Mohammed Umar Farooq.
Modern weapons for VDCs, SPOs
JAMMU, Nov 17 — Members of the village defence committees (VDCs) and Special Police Officers (SPOs), engaged in anti-insurgency operations in Doda, Rajouri and Udhampur districts, would be provided sophisticated weapons shortly. This was disclosed by the Director-General of Police (DGP), Mr Gurbachan Jagat, while addressing VDC members at Gandoh in Doda district and Chasana in the Mahore area of Udhampur district during the past two days.
Centre's plan to nab Veerappan
November 17, 2000
Bibi gets bail
November 16, 2000
Marandi sworn in CM
November 15, 2000
CBI charges Jagir Kaur with daughter's killing
November 14, 2000
Militants clash with pilgrims
November 13, 2000
Tarar promises Sikhs facilities
November 12, 2000
Bush camp asks Gore to concede defeat
November 11, 2000
Bush has razor-thin lead
November 10, 2000
US presidential battle hangs in balance
November 9, 2000
Recount ordered
November 8, 2000