Thematically speaking, whether it is parental opposition to love in Kabhie Kabhie or an adult look at extramarital affairs in Silsila or even a fairytale love triangle in Dil To Pagal Hai Chopra's battle is not so much between good and evil. In fact, in his cinema curbs on individual happiness come from societal norms rather than wrongdoing of villainous or unsavoury characters. Social mores, traditional family hierarchies, accepted patterns of right and wrong, are the inviolable determinants of human behaviour which have to be assiduously adhered to by the lead characters.
Thus, Rakhee and Amitabh Bachchan playing mature lovers in Kabhie Kabhie never express their love after they have been married. Just as Chandni and Amit could not hope to walk out of a marriage of convenience and settle for love in Silsila. In fact, when they try to do so and give in to their natural desires, they are held suspect by their friends. The same applies to the belief of marriages being made in heaven and the adherence to this bond depicted in Dil To Pagal Hai. Thus, the sanctity of marriage and the traditional family unit is preserved at all costs in these films.
In addition, any resolution of conflict always entails a return to order. Darr may have been different due to the novel characterisation of Rahul as the archetypal anti-hero but its box office success lay in its steadfast adherence to accepted conjugal bonds. Rahul with his energetic and frenzied ravings might have succeeded in imbuing, his character with heroic shades of negativity. Nevertheless, in the final confrontation, it is positive goodness embodied in the good, clean normal hero that emerges victorious.
The only film in which Yash Chopra dared to digress was Lamhe. Here for the first time popular cinema witnessed the consummation of an unconventional relationship between Pooja and Viren, a man who loved her mother, Pallavi. But despite its box office failure, Lamhe was a rare film that portrayed the Indian woman as an iconoclast who is willing to stand up against established norms. In fact "Pooja' became a perfect heir to Chandni — Chopra's protagonist in his endearing treatise on a woman of substance — striking new ground with her independence and self sufficiency.
Interestingly, Chopra's cinema is cinema for change only to the extent that women in most of his films have borne the burden of rejection with dignity, without breaking down. They are shown to nurture their frayed egos and rebuild their shattered lives without curbing their natural desires. A typical example being Nisha's (Karisma Kapoor) love for Rahul in Dil To Pagal Hai. It hinges on the tumult of unfulfilled desires but is gradually infused with self-discovery and introspection about sacrifice. Of course, without jeopardising her positive, progressive and modern outlook.
In fact, Yash Chopra's penchant for cinematically analysing the virtues and woes of love and individuality is also evident in his early films like Deewar, Trishul and Kala Pathar. These films, of course, are distinctly different from the moonlight romances filmed by him in his later years. But Chopra's initial fascination with the element of anger in Amitabh Bachchan's screen persona (which he tried to ressurect in Mashaal with Anil Kapoor) gradually transformed into fascination with the bitterness of angry young lovers. And this became a natural fallout of motives like self-denial and suppression, that he repeatedly depicted in his upper class love stories with utmost conviction.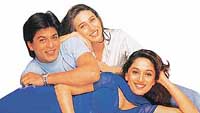 With his son Aditya taking over the mantle of directing his films, the Yash essentials —lilting music, scenic backdrops, intense portrayals and attention to the matters of the heart — remain intact. Except that, in films like Dilwale Dulhaniya Le Jayenge and Mohabbatein the heroes are neither angry nor rebellious. Raj, Raj Aryan, Karan, Sameer and Vickey strongly believe in assertion of identity not by standing up against established or sanctified mores but by doing what they feel is right in their socio-cultural context. These films are consciously aimed at articulating various facets and nuances of the generation gap with love being the fulcrum around which relationships revolve.
Stylistically speaking, by recasting the Yash Chopra format with breezy, upbeat music, hi-tech gloss and imaginatively handled MTV-style packaging, both films look fresh, youthful and appeal to both the young and old. Like his father, Aditya without doubt, is a sensitive story teller. The narrative construction of the musical sequence in Mohabbatein where the young lovers Karan, Sameer, Vickey, Isika, Sanjana and Kiran dance in pairs to fathom the intensity of love, encompassing both the spiritual and sublime, stands out.
Yash Chopra, thus, emerges as the celluloid poet of love who continues to weave magic with emotions alone. The bugbear of the violent world does not infect his cinema. This is, perhaps, his vision of a beautiful world, peopled by beautiful characters where the villain of the plot is largely destiny. But there is a threat to his cinematic credo that he has evolved over the years with utmost conviction. And this is the threat of designer romance and hi-tech gloss that is increasingly beginning to dominate screen dramas in popular Hindi cinema, thereby diverting attention from content.