IN PASSING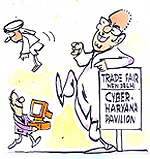 Sorry, no agriculture. We invite only cyber-age people!

Badal to name SGPC chief
CHANDIGARH, Nov 21 — The head of the Shiromani Akali Dal, Mr Parkash Singh Badal, will name the President, other office-bearers and members of the executive of the SGPC on November 30, the day the elections to this body are scheduled to be held in Amritsar.
W. Bengal CM ready to join hands with Laloo, Jaya
CALCUTTA, Nov 21 — The new Chief Minister of West Bengal, Mr Buddhadev Bhattacharya, says that he has no hesitation in joining hands with Mr Laloo Yadav and Mrs Rabri Devi as well as Ms Jayalalitha to fight against the Vajpayee government on the states' legitimate demands.
Mukhija murder: weapons found
MOGA, Nov 21 — Surjit Singh, one of the six suspects in the Mukhija murder case has told the police that he has no regrets for slaying the senior Congress leader in Dharamkot on November 13.
INLD-BJP ties touch new low
CHANDIGARH, Nov 21 — The relations between the alliance partners, the Indian National Lok Dal and the BJP, in Haryana touched a new low today when the leader of the BJP Legislature Party, Mr Krishan Pal Gujjar, levelled corruption charges against the first family of the state and demanded inquiries by the Central Bureau of Investigation and the Income Tax Department into the assets acquired by it.
RAF deployed in Delhi
November 21, 2000
No combat operations during Ramzan
November 20, 2000
Shelling forces fresh migration
November 19, 2000
CBI interrogates Bibi
November 18, 2000
Centre's plan to nab Veerappan
November 17, 2000
Bibi gets bail
November 16, 2000
Marandi sworn in CM
November 15, 2000
CBI charges Jagir Kaur with daughter's killing
November 14, 2000
Militants clash with pilgrims
November 13, 2000
Tarar promises Sikhs facilities
November 12, 2000
Bush camp asks Gore to concede defeat
November 11, 2000
Bush has razor-thin lead
November 10, 2000