Meanwhile, her father had remarried and her stepmother blamed Ruchika for causing so much distress to the family. Even when she allegedly committed suicide, she had rushed out of the house and an army man from Chandimandir had admitted her to Sector 16 General Hospital. Her stepmother had shifted her to the PGI, where she died.
The case was closed in 1994 and Subhash Girhotra sold off the house and left for an undisclosed destination. The fact is that if action had been taken, if she had not been subjected to mental cruelty and tortured — perhaps she would have been alive. So many if'. But its is these if's that make all the difference between life and death.
What does Ruchika's story tell us? It is foolhardy to take on the powerful. What can a common man do if the process of law is obstructed? You can knock and knock at all doors for justice but the procedures are so tardy and amenable to manipulation that the whole process is self defeating.
There must be many such Ruchikas and many Rathores who get away with so much more.
A colleague, who was invited to a gender sensitisation programme for police officials, narrated her experience. Before beginning her lecture, she had asked them: ''What do you think of any woman or girl who comes to you for help?''
A policeman had spontaneously retorted: ''Jo aurat thaane aa gayi, woh theek nahin hai''. If they have this preconceived notion, how can one expect them to ensure justice? And Ruchika did not get justice.
WHEN ONE MEETS Anand Prakash and his wife Madhu Prakash, the first thing that strikes one is the courage they have demonstrated to fight a protracted legal battle. What is amazing is that they have, against all odds, managed to spearhead a campaign that brought them into a direct confrontation with the powers that be.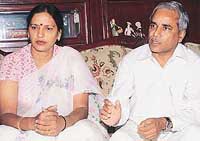 Madhu Prakash, a law graduate, and Anand Prakash a structural engineer with the Haryana Marketing Board have fought a decade-long legal battle against the DGP, Haryana, S.P.S. Rathore. Simple, ordinary, middle class people, neither ideologues nor fire-brand activists, the couple fought on with the intention of bringing the guilty to book. In an age of apathy and declining social conscience, they persisted with the arduous legal battle that too for somebody who was not even directly related to them. Ruchika was their daughter Reemu's friend. Since her mother had died, she treated Madhu like a mother figure and often confided in her.
Their daughter was an eye-witness to the molestation of Ruchika . She too insisted that the matter should be pursued.
To the query that what made them persist with the case, their answer is: "How can we let our children down? Are we not their guardians? Agar hum apne bachchon ki nazaron se hi gir gayee to kya faida hua?". An agitated Anand Prakash, who backed his wife's decision to move the High Court, demanding action against the DGP. Madhu Prakash still remembers vividly how Ruchika had cried and the manner in which she had broken down when she was asked to narrate the incident. "Uska Chera meri aankhon ke aage abhi bhi aata hai". Madhu is convinced that had an FIR been lodged in 1990 itself, Ruchika would not have been harassed and, as a consequence, not committed suicide.
According to Anand Prakash, he had spoken to Ruchika when she told him that she wanted to pursue the case against Rathore. He had warned her that she would have to be really bold and brave to take on the might of the police chief. But she did not flinch. Her answer was: "Unless he is checked, many more girls would face a similar situation".
The son of a freedom fighter from Ladwa in Kurukshetra, Anand Prakash is proud of the fact that he can stand up to the pulls and pressures. As he says: "In ragon mein freedom fighter ka khoon daud raha hai". Even if one has to fight for freedom in one's own country against an oppressive system.
For the couple, it is a matter of conviction that silence (out of fear or cowardice) is complicity. One must speak up even if it means putting up with inconvenience, facing trials and tribulations and putting one's life on hold.
What they find amazing is how a person responsible for enforcing law and order in a state, refuses to respect the course of law himself and waits until he is "proved" guilty. Probably moral conviction does not matter.
The case should serve as an eye-opener for the common man. Even if the bureaucracy, politicians and the tedious process of law try to muzzle the voice of the common man, he should not capitulate. It is this abdication of social responsibility that fuels oppression. The refusal to speak out encourages the perpetrators of atrocities and they thrive on this fear.
Anand Prakash did not capitulate, being pressurised by his seniors and even after threats to ruin his service record. More than 10 cases were initiated against him and his ACR was spoilt. Repeatedly, he was cajoled to drop the case against Rathore. They kept getting anonymous phone calls and had to take a few precautions such as not moving out alone after dark. Even his daughter Reemu never thought of buckling under pressure.
They were lucky to get the support of friends, media and committed lawyers who were not willing to compromise.
Disappointed that 306 IPC (abetment to suicide) was not included in the charge sheet, they maintain that they "will try all the channels of the law".
Once they succeed, they plan to go on a pilgrimage to Vaishno Devi.

THE infamous Ruchika molestation case is a tragic story of what happens when a senior police officer set his eyes on a minor girl . Let's hear what Ruchika told about what happened to her on the fateful day.
" My father told me that Mr Rathore had come about 12 noon at our residence, No. 363, Sector 6, Panchkula, and stayed for about 20 minutes. Mr Rathore had further told my father that I may meet him at his office at House No. 469, Sector 6, Panchkula. The office of the club is in the garage of that house. According to the instruction of my father, I went to meet Mr Rathore, president of the club, on August 12, in the office at the above address along with my friend Reemu, who is also a member of the club. I was further asked by one Mr Paltoo, ball picker, that I should meet Mr Rathore on August 12, 1990, at about 12 noon. When we reached the office, Mr Rathore was alone there standing outside. On seeing us he came into the office and also asked us to come inside the office. I had requested him that he may listen to me outside the office but he kept on insisting and perforce we had to go inside the room/office. He asked one person present there to bring only one chair, on which my friend Reemu sat down. I kept on standing. Mr Rathore had asked, particularly, the person who had brought the chair not to bring another chair. Later on Mr Rathore asked Reemu to go to bring Mr Thomas, the coach, who lives in the same house.
"As soon as Reemu left the place Mr Rathore caught hold of my hand which I got released. He again got up from his chair and caught hold of my hand again and came near me and put one of his hand around my waist and pressed me against his body tightly. I tried to get rid of Mr Rathore by pushing him away with one of my hands which Mr Rathore was not holding. I was so shocked and became nervous with the behaviour of Mr Rathore".
This was part of Ruchika Ghirotra's statement while deposing before R.R.Singh, who was the DGP of Haryana in 1990 and was asked by the state government to conduct a probe into the allegations made by Ruchika against S.P.S.Rathore, who was then an IGP and president of the Haryana Lawn Tennis Association (HLTA). Ruchika, a member of the HLTA, told R.R.Singh that she could free herself as her friend who was sent by Rathore to bring the coach, came back. Initially, she and Reemu had decided to hush up the incident because they feared that the police officer might harass them or their parents.
Ruchika described how she finally told her father and Reemu's parents about the incident in the following words, " On August 13, 1990, it was weekly holiday, being Monday, so we did not go to play. On August 14, myself and Reemu went to play tennis at 4-30 p.m., though time allotted to us was 6-30 p.m. to 7-30 p.m. We had intentionally gone at 4-30 p.m. to avoid Mr Rathore's presence there. We played there up to 6-30 p.m. While we were leaving the club, Mr Paltoo, ball picker, came and informed me that Mr Rathore is calling me in his office. On this I thought that since we did not inform our parents about his misbehaviour with me, that is why Mr Rathore is feeling encouraged and has again called me and would misbehave with me again. Therefore, I and Reemu decided to inform our parents about Mr Rathore's misbehaviour with me on August 12. The same day Reemu told my father everything and I also tried to narrate the whole incident as to how Mr Rathore tried to molest me but I broke down and could not say much and Reemu had narrated the whole incident. After that I went to Reemu's house and we both told everything to Reemu's mother in detail. Since my mother is no more that is why I broke down in front of Reemu's mother (Mrs Madhu Anand)".
R.R.Singh wrote in his report that when he tried to conduct an inquiry into the incident, Rathore refused to cooperate, arguing that the matter had become sub judice since he had already filed a defamation case in the court of JMIC, Ambala, against Ruchika, her father Subhash Chander Ghirotra, Reemu and her father Anand Parkash and others. Subsequently, R.R.Singh obtained legal opinion from the district attorney, S.P.Vig, who said that filing of defamation case in the court at Ambala did not make the inquiry sub judice. In view of the legal opinion, R.R.Singh resumed the inquiry and recorded the statements of Ruchika and her father as well as those of Reemu and her parents and came to the conclusion that the charge of molestation against Rathore was "based on true facts". " I would, therefore, recommend that a case under appropriate sections of the Indian Penal Code be got registered on the statement of Miss Ruchika and investigated", R.R.Singh observed in his report which was submitted on September 3, 1990.
However, nothing was done to comply with the recommendation made by R.R.Singh. The then Home Minister of Haryana, Sampat Singh, referred the case to the new DGP, R.K.Hooda, despite the Law Department of the state okaying the registration of case against Rathore. R.K.Hooda recommended departmental action in the case. While the file was gathering dust at the government offices, Ruchika committed suicide on December 29, 1993, three years after her alleged molestation.
Madhu Prakash, Reemu's mother, ran from pillar to post to get hold of a copy of R.R.Singh's report which she finally obtained in 1997, following which she moved the high court, demanding a probe into the incident. Incidentally, Rathore had himself demanded that if an inquiry be conducted at all, it should be by the CBI and not by the state police. However, the high court order for an inquiry by the CBI by an officer of DIG rank was challenged by Rathore in the Supreme Court. His appeal was turned down by the apex court on December 14, 1999, following which the Panchkula police registered a case against S.P.S.Rathore, now the DGP of Haryana, charging him of eve-teasing and molestation.
The CBI was asked by the court to file its report "preferably within six months", though the investigating agency took almost 11 months before it finally charge-sheeted the DGP. The charge sheet, filed under Section 354 of the IPC (relating to outraging the modesty of a woman), naturally came as a dampener for Parkash who wanted the accused to be booked under 309 of the IPC (abetment to suicide). " We will watch what happens on Monday ( November 27, the next date of the case), and then move the court again", said Anand Parkash, Reemu's father.
It is still not known where Ruchika's father and brother are. While Ruchika's brother, Ashu, who was charged by the police of a number of theft cases but was acquitted by the court, is reportedly living somewhere in Punjab, her father, Subhash Chander Girhotra, former manager of UCO Bank's divisional office at Sector 17, Chandigarh, was reportedly traced by CBI sleuths in Calcutta.