Masala arbi:
Ingredients
½ kg Arbi (large or medium-sized)
2 tsp jeera, roasted and powdered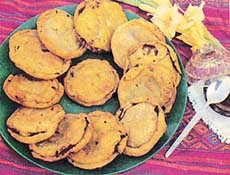 2 tsp garam masala powder
1 tsp coriander power
2 tsp mango powder
2 tsp salt
Oil for frying
Method
Boil arbi in salted water till done. Peel the boiled pieces and flatten each piece by lightly pressing between palms.
In a plate mix all the masalas, salt and mango powder.
Heat oil and deep fry the flattened arbi till golden brown.
Take out from oil and roll in dry masala so that each piece of is fully coated with the masala. Garnish with fresh coriander leaves and serve with naan or tandoori roti.
Sweet and sour arbi
Ingredients
250 gm arbi,
2-3 medium potatoes
Oil for frying
1 medium onion For sauce:
1 large tomato
1½ t bsp corn flour
1 cup water
1 medium cucumber
3 tbsp malt vinegar
sugar
2 rings of canned pineapple
3 tbsp pineapple juice
24 tbsp comflour
2 tbsp thin soya sauce
1 tsp grated ginger
2 tbsp tomato ketchup
Salt to taste
Salt and pepper to taste
Method
Boil arbi and potatoes till tender, mash well. Add grated ginger, salt. Add 1 tbsp comflour to make a smooth dough. Take small portions and make lemon-sized balls (apply oil on your hands if it is sticky). Roll the balls in comflour and deep fry in hot oil till golden brown. Keep aside.
Quarter the onions, divide into peels. Cut the tomato into chunks. Peel and cut cucumber into thick slices. Cube the pineapple rings.
Heat 2 tbsp oil and stir fry the onion for 1 minute. Add cucumber, tomato and pineapple (preferably in this order) and stir fry after each addition. Saute for 2 minutes. Add arbi balls. Mix the sauce ingredients together and pour over the fried balls, stir until the mixture thickens and becomes translucent.
Layered arbi mathri:
Ingredients
200 gm arbi
½ kg maida
½ cup curd
1½ cups white butter
1 tsp ajwain
1 tsp garam masala
1 tsp ginger garlic paste
½ tsp pepper
1 tsp amchoor
Oil for frying
Method
Boil and mash arbi. Heat 2 tbsp oil and add ginger garlic paste, stir till it becomes light brown. Add salt, garam masala, and amchoor.
Add mashed arbi and stir till mixture becomes dry. Keep aside.
Knead maida adding white butter, curd, salt and ajwain. Use water when required. Make very small balls. When all balls are ready, roll/ball on a wooden board with rolling pin once. Apply arbi paste cover with another ball and roll twice. Seal the ends. Continue till all balls are done.
Heat oil in a frying pan and fry mathris on slow fire till brown. Serve as a tea-time snack.
Baked arbi puffs:
Ingredients
250 gm arbi
2 green chillies
1 tsp onion paste
1 tsp ginger garlic paste
1 egg
½ tsp ajwain
½ tsp butter
½ tsp mango powder
Salt and pepper to taste.
Coriander leaves
Method
Boil arbi till tender and peel and mash. Add onion and ginger garlic paste. Grind chillies and coriander leaves. Mix in mashed arbi and add salt, pepper, butter, ajwain and beaten egg. The mixture should be of thick dropping consistency. Grease a baking tray. Put the mixture in an icing bag and make small knobs on the baking tray.
Bake for 15-20 mix at moderate heat.
Spicy delight:
Ingredients
1 cup basmati rice
1 cup shelled peas
1 carrot diced
6 arbi leaves
2 tbsp refined oil
1 tbsp chill sauce
1 tsp salt
Method
Boil the rice. Parboil peas and carrots. Wash arbi leaves, pat dry and brush the inside with a little oil.
Heat oil in a karahi stir fry the rice till i is well coated with oil and heated through.
Add peas, carrot, sauce and salt.
Divide the rice equally in between the arbi leaves. Fold the leaves over the rice. Make neat package, secure with thread.
Steam for 15 minutes in double boiler. When they are done remove the thread. Serve with curry.