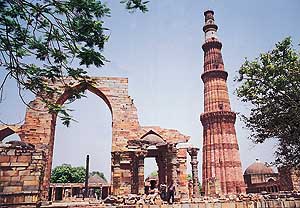 Still nothing was done. Over the years ugly encroachments, rampant littering, touts, beggars and graffiti have all turned away disgusted tourists from this 800-year-old tallest free standing stone tower in the world (approx. 77 metres).
Things would have gone on the way they were had not a handful of conservationists raised alarm bells about the monumentís deteriorating conditions. Now the Archaeological Survey of India (ASI) has taken note of the threat posed by vandals and decided to take remedial measures to restore its glory.
As a first step Indiaís premiere National School of Design (NSD) based in Ahmedabad was entrusted with the task of drawing up an action plan for Qutubís conservation. It has suggested a list of remedial measures.
"The basic idea of restoration process is to make it more tourist-friendly," says G.S. Grover, director, monuments, ASI and adds, "we are now working on a comprehensive heritage management plan which will look after each and every facet of conservation, maintenance and revenue earning".
Besides the Qutub Minar, the Heritage Management Plan drafted by NSD and funded by the public sector Indian Oil Corporation will provide funds for managing heritage sites across the country.
As a first step a tourist map of Qutub Minar is being developed outlining the monumentís history. There will be a video and slide presentation and a special light and sound show. This, the authorities hope, would go a long way in discouraging unofficial guides and touts who infest the place ready to rip off tourists.
The existing entrance to the Qutub would be given a facelift with fresh landscaping. Encroachment are being cleared and the monument will be artistically lit up with solar lights for tourists who want to view it in the night.
A swimming pool, recreation parks, cyber cafes, communication centres, shopping stores, souvenir shops, information kiosks and even banking and retail outlets are slated to be opened around the monument.
Initially, shops will be operated by government agencies and later on if the demand increases, private parties will be called to join in. "The aim is to give tourists quality time when they visit the monument. There will be a blend of the ancient and the modern," says ASIís Grover.
A museum is planned to be constructed which will house art and artifacts, arms and ammunition, costumes, coins, sketches, paintings, scrolls, jewellery and other historical objects of the period.
The museum will also house a library which will store books especially on history of the monument starting with Afghan warrior Qutub-ud-din who invaded northern India and captured Delhi near the end of the 12th century.
Qutub-ud-din built a large palace complex to the south of the city that included Indiaís first mosque, as well as the tower. The Qutab Minar first served as an excellent perch for spotting potential invaders. Eventually it became Qutub-ud-dinís mausoleum.
The cost of giving Qutub a facelift will be shared jointly by the Indian Oil Corporation and the National Culture Fund which has a corpus of Rs 25 crore for heritage management.
"We will not start too many things at one go. Our aim is to take up one project at a time," says Grover. The funding, he says, will be disbursed in a phased manner. Only when the functionality of each project has been checked will other projects be taken up.
"We are very optimist that the proposals will be cleared by the ministry and then we can start our work immediately," says Grover.
And if the lofty Qutub Minar can be restored to its past glory, it is bound to serve as a benchmark to carry out similar activities in other monuments as well. ó Newsmen Features