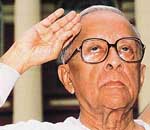 There is very little criticism of him as an administrator, who was heading the Government of West Bengal for 24 years. Those who worked with him say that he was always ready to listen, very accessible and not partisan in choosing and deploying people from the civil service. What is criticised is that he was able to do little that was constructive for West Bengal. Only two major projects, it is said, came up during his rule, Haldia and the Bakreshwar power station. His critics compare this with the record of B.C. Roy who conceived and brought into being a whole stream of industries and projects in the State, many of them still visible — Durgapur Steel Plant, Chittaranjan Locomotive Factory, the development of the Salt Lake area of Calcutta, the Damodar Valley Corporation complex of dams, the satellite town of Kalyani etc. etc. The Chairman of West Bengal Industrial Development Corporation, replying to the criticism of not much being achieved, complained that sometimes approval from the Centre took 12 or even 14 years to come. This surely shows that, though very highly respected by the Centre, Jyoti Babu didn't have the clout, (as B.C. Roy did,) of getting the Centre to move.
The other line of criticism is also important — that West Bengal stifled its industries, did not allow new ones to come up and pushed industrialists into putting their capital elsewhere in the country. At the same time the arrogance and obstructiveness of the trade unions were such that the running of industries was almost impossible. For this Jyoti Babu has not been able to give an adequate explanation. The economic harm done to West Bengal in the last decade and a half will take much time to heal, if ever. Maybe in the Communist Party of India (Marxist) there were in high places some very orthodox ideologues. This was certainly true about land reform, for instance. The party was set on land reform but some senior and influential leaders like Harekrishna Konar were for confiscation of extra land. Here Jyoti Babu was able to steer a way which brought land to the sharecroppers (bargadars) without tearing up the fibre of society. Land Reform and panchayati raj are the two major achievements of the Jyoti Babu regime.
Most heart-warming of the tributes speak of his unfailing courtesy and kindness, his unostentatiousness without being theatrically 'poor', his lifelong respect for the Legislative Assembly and its rules and conventions. B.C. Roy and he were powerful opponents in politics, but good friends in life. The other day in a TV programme someone showed Jyoti Babu a photograph of his with Roy, who was seated in the Chief Minister's chair. With a disarming smile, Jyoti Babu said: "He (Bidhan Babu) told me I will see you in this chair and then go".
I have said that the CIP(M) Government of West Bengal's greatest achievement was land reform. The Chief Minister Jyoti Babu's greatest achievement was keeping in harness people from nine different parties in his ministerial team.
It was not just a CPI(M) government that he led, it was a Left Front Government. Of course, the CPI(M) dominated but there were ministers from other parties like the Forward Bloc, Revolutionary Socialist Party, and the Socialist Unity Centre. Although, he could be tough it was also true that what he agreed to and issued directions about was not done in the layers below him. He was not able to cure the growing bullying and corruption in his party. Nevertheless, there was no breath of corruption about him except for the accusation about his businessman son, Chandan. It is difficult to say whether Jyoti Babu indulged him as a father. Maybe not.
Jyoti Babu has 'agreed' to stay in the Government house allotted to him as Chief Minister. It would have been better if he had gone back to his own house in South Calcutta's Hindustan Park, but he is a Z Category protectee and he felt that the security bandobast would have discomfited his neighbours. But does he really need security of Z or any other category?