Moving to the small screen, the icons begin to change substantially. They are older, caught in the throes of traumas, embroiled in the stark experiences of life and successful in the midst of their confusions. Kanwaljeet or Gautam, the scatter-brained husband of Saans, Shekhar Suman or Biren, the self-flagellating hero of Main, are the foremost samples of this genre. The Big B of Kaun Banega Crorepati fame has set even more interesting new standards of manhood. Amitabh Bachchan is suave, wise, rather sad, courageous, forthright and good-natured as the anchor of this national-craze game show. The ad world and the society pages of newspapers are held to ransom by John Abraham, Diwakar Pundir, Aryan Vaid and others of their ilk.
All these packagings of men put before us cover a wide spectrum of personalities — from the finely-tuned sensitive variety to the shrewd, narrow-eyed observers who will not let even one trick of life pass them by. If these presentations are to be taken as any indication — especially because they are created by men themselves — then the picture of the modern man is definitely more delightful today than ever before!
Never before in the history of the Indian man's evolution as a person has there been such an interesting scenario before us: Older men are doing their utmost to be young, act young and look young whereas young men are trying to act like grown ups, to remain fit and young yet have all the blessings which are associated with a mature age! Which is exactly what makes the modern young Indian man an interesting species to watch. Neither traditional nor totally unconventional, the latest edition of the Indian man makes an interesting study. The way media presents him in soaps, ads and films as well as the many events planned by the best brains of the entertainment industry, the archetypal Indian man today comes across as somewhat soft-hearted, sentimental and charming, and very often, very good at his professional skills, money savvy and shrewd!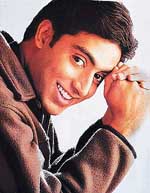 In the last 50 years, social forces, working mainly through two generations of highly educated, intrepid women — mothers and wives — have compelled men to change. Their more-than-ever-before liberal and cosmopolitan upbringing, their new access to upgraded lifestyles, their new ambitions and their constant exposure to the world through print and electronic media, have turned their world around and upside down and changed the very definition of masculinity. Though masculine, men today do not hanker after the old, ugly and bossy muscular look. Rather, they wish to be fit and slim and fond of good life. Today's young men take pride in doing well at a young age. Competition, often cut-throat, is rampant and they are unable to deal with it except by being a little heartless themselves. Who has the best car or home, or who holidays where with his wife and kids, makes a big difference. Status symbols change in the blinking of an eye and life is sometimes too fast to cope with. The young Indian man is in a terrible rush to get there. He wants name, money, status, family and the whole world at his feet — all before crossing the Rubicon at 40. While materialism and a focused search for money typifies the urban Indian young man, there are other changes in his personality too. Some good and some not at all so!
Today's Indian man is more aware of his wife's or woman's rights. He may like conceding them or not, but he can no longer ignore them. He is probably born to a working or successful, stylish mother and has seen women in their avatar as superwomen from a young age. He probably has an assertive sister whose tomboyish attitudes he has shared all through childhood and adolescence. He is used to women holding the purse-strings of the family, having their own money and demanding their own place in the sun. He accepts their idiosyncrasies and as far as is possible, doesn't display blatant double standards like his father or grandfather. He can make a caring husband and a soft, gentle father. He is no more scared of being tender and gentle.
On the flip side, however, there is the loss of roots which keeps him in a constant, restless search for the correct values to suit his new lifestyle. He comes across as rather self-centred, careless about elders, unwilling to shoulder the boring responsibilities of the weaker sections of his family and certainly not in a mood to alleviate any social evils in the country. He is not fired by the zeal to work for the good of the community. Those who can't fight and survive should quit the scene, could well be his motto.
He is a good looker. Not the chocolatey kind, bur neat, imaginatively dressed, innovative and even fancy in choice when he is ready to package himself for the job market. He is capable of inspiring a whole host of designers of clothes, leisure goods, accessories and offices or homes with equal commitment and enthusiasm. In leisure life, lean and jean clad, addicted to the celebrity-riddled media, TV, films music videos and chewing gum. At least, this is how he is portrayed in the media — especially in ads and feature films. His icons are confusing — some sober like Sachin Tendulkar and others quite crazy like Govinda.
The average Indian man today is impatient with the establishment, angry with a system which does not deliver and bored with bombast. His attitude to life is 'go get it'. This young man has hardly any caste or religious bias and will accept a more equitable social order provided he doesn't have to slog or sacrifice his personal ambitions or choices to create it. Whether he follows all values in his own life or not, he upholds them with a rare passion. All in all, he is nice enough man who is doing his best to keep pace with a fast changing social scenario in which women are holding their own and often coming out winners! He may seem confused, but he surely knows the way to go!