In spite of her busy schedule, she did not have the ''I-am-in-a-rush" attitude. She spoke at length on the virtues of aromatherapy and was happy that times have changed. Women want to look good for themselves and they take care of their bodies. "Beauty pageants have played a positive role and brought about a revolution. Be they old or young, everyone wants to look good. Fifteen years back, if ten people had grey hair, only two of them dyed their hair, now the ratio has been reversed.
Blossom feels beauty treatment has to be wholistic. "You have to take care of your insides, including your mind and soul, to be beautiful and to sustain your youth". She is happy that women have stopped feeling aged. They come and spend hours getting themselves rejuvenated with massages The centre runs a day spa, which includes meditation, massages, accupressure, reiki, hair and beauty treatment. It is like taking a holiday. "We say give us your body and we will give back your mind", says Blossom.
She feels that as far as cosmetics, are concerned, foreign brands have an edge as far as foundations and lipsticks are concerned. "The range is mind -boggling. But in skin and hair care, there is nothing to beat India". She also believes to tend to the skin
and hair, it is the traditional fare which is made of grandmother's recipes that will continue to hold sway. "Women owe it to themselves to be well-groomed and take care of every aspect of their personality," maintains this promoter of beauty.
Golf champion
Golf has really caught on as a sport and many youngsters are playing in the international circuit and making a place for themselves. The sport is becoming a paying proposition. One of the top golfers, Amritinder Singh, affectionately called Bawa on the gold circuit, belongs to the city and has carved out a niche for himself. Recently, he won the Hero Open Golf Championship, three years running in Chandigarh. He belongs to the city, which is fast becoming a nursery for young golfers.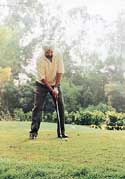 Amritinder, comes from a family that is totally dedicated to sports. His father Simran Singh belongs to the princely family of Patiala and has devoted his life to sports. He played Ranji Trophy cricket, took to badminton and then golf, before becoming a coach. His two sons also decided to be sportsmen. The elder son was shaping into a great golfer when tragedy struck and he passed away. Now the mantle of carrying on the sports tradition fell on Bawa. The choice was between tennis and golf and golf won. He lived upto the faith reposed in him by winning the Indian Amateur Golf Championship. Soon he turned a pro.
Amritinder has played all over the world and his dream is to win the US Tour. He
hardly gets much spare time as he travels a lot from one circuit to the other. While travelling, he reads a lot which he enjoys. Living out of suitcases has become a habit, even though he misses home, his parents, fiancee and his dog Tubby whom he dotes on. He has quite a cosmopolitan taste as far as his lifestyle goes. He loves trying out new food and restaurants and is especially fond of Italian and Thai food. He has a lot of close friends, including Jeev Milkha Singh. Bharat Petroleum, gave him a job because of his prowess in golf and they let him play unhindered.
Amritinder is marrying Shona Manco both the families knew each other because both his and Shona's mother, played golf together. Shona also loves playing golf. She has a handicap of 6 under. She is the first woman sportsperson who is also a sports journalist.
— Belu Maheshwari