IN PASSING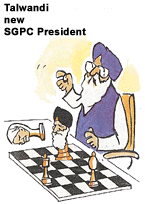 Des Raj rejoins rebel camp
Mohinder offers to quit, Thakur resigns
SHIMLA, Nov 30 — The week-long political crisis in the ruling BJP seems to be heading for a solution after a series of dramatic developments today marked by return of Mr Des Raj, MLA, to the dissident camp, renewed offer of the controversial PWD Minister, Mr Mohinder Singh, to resign and the six rebels' expressing support to the Dhumal government.
Withdrawal of Kanth's medal sought
NEW DELHI, Nov 30 — The Nanavati Commission, set up to probe the 1984 anti-Sikh riots afresh, today issued notice to the Joint Police Commissioner of Delhi, Mr Amod Kanth, on an application seeking the withdrawal of President's Medal awarded to him.


Kulu gets computerised PO
SHIMLA, Nov 30 — The head post office, Kulu, today became the first fully computerised post office in northern India. Stating this here today, Mr Vijay Bhushan, Chief General Manager, Himachal postal circle, said all operations, including sub-accounts, treasuries and counter operations had been computerised and it had virtually become a paperless post office.
Decision left to Badal
November 30, 2000
Blast mars first day of ceasefire
November 29, 2000
Guns fall silent in Kashmir
November 28, 2000
4 jawans die in ambush
November 27, 2000
Dhumal faces revolt
November 26, 2000
Bibi fails to convince CBI
November 25, 2000
No going back on ceasefire
November 24, 2000
5 truckers shot near Banihal
November 23, 2000
SC rejects Delhi Govt's plea
November 22, 2000
RAF deployed in Delhi
November 21, 2000