THE TRIBUNE MAGAZINES
On Mondays


On Sundays

On Saturdays

SC upholds Rao's acquittal in St Kitts case


NEW DELHI, Dec 6 — Case-scarred former Prime Minister P.V. Narasimha Rao today got a major relief when the Supreme Court upheld the trial court order discharging him from the St Kitts forgery case.
SGPC to review stand on jathas
AMRITSAR, Dec 6 — After assuming office, Mr Jagdev Singh Talwandi, the newly appointed President of the SGPC, has announced that the executive committee would review the decision of 'boycotting' jathas to Pakistan.
GLITZ 'N' GLAMOUR
IN PASSING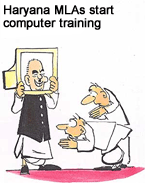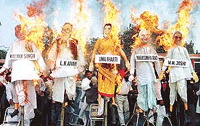 Activists of the Regional Samajbadi Party burn effigies of leading BJP leaders in Calcutta on Wednesday. — Reuters photo
Dangi case: accused denied bail
ROHTAK, Dec 6 — The Special Judge, Mr Shiva Sharma, has rejected the pre-arrest bail application of Didar Singh Tehsildar (Retd), who is an accused along with former Revenue Minister Anand Singh Dangi, in the alleged bogus allotment of land meant for rehabilitation.



Govt flouts own orders
Extra provincial staff in civic body
BATHINDA, Dec 6 — Even as the Punjab Government has abolished all vacant posts of non-provincial cadre of the local municipal council to bring the expenditure on establishment at 35 per cent of the real income, it has been putting extra financial burden on the civic body by posting more employees of the provincial cadre here than the required strength.
DGP Rathore in the dock
December 6, 2000
Mamata resigns, Vajpayee declines
December 5, 2000
4 more bodies extricated
December 4, 2000
40 die, 135 hurt in rail mishap near Rajpura
December 3, 2000
Man intrudes into Naval chief's house
December 2, 2000
Talwandi replaces Bibi
December 1, 2000
Decision left to Badal
November 30, 2000
Blast mars first day of ceasefire
November 29, 2000
Guns fall silent in Kashmir
November 28, 2000
4 jawans die in ambush
November 27, 2000