THE TRIBUNE MAGAZINES
On Mondays


On Sundays

On Saturdays

24 hurt in Kupwara blast
BARAMULA, Dec 7 — Twenty four persons were injured when militants exploded a grenade near the taxi stand in Kupwara this afternoon while two persons were killed elsewhere in North Kashmir since last evening, official sources said today.

Pak firing in Siachen on rise
JAMMU, Dec 7 — Even after Islamabad's announcement that its troops have been asked to observe "maximum restraint" on the LoC, the level of firing in the Siachen glacier in eastern Ladakh, which has been the scene of many a bloody armed duel between the two sides, has increased.
I N T E R F A C E
IN PASSING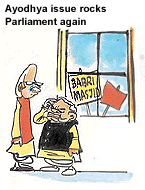 Who says it is demolished? Every
Dec 6 it reappears!

Seize this opportunity: Shah
NEW DELHI, Dec 7 — Senior Kashmiri leader Shabir Shah today asked the Central Government to demonstrate seriousness to its peace initiative in Jammu and Kashmir and open a dialogue with separatists and Pakistan to consolidate the ceasefire which, he said, should be extended beyond Ramzan.
PM to consider if Hurriyat men seek passports
NEW DELHI, Dec 7 — In a significant development, Prime Minister Atal Behari Vajpayee today said, "If all-party Hurriyat Conference approached us for permission to go to Pakistan, we would consider it".
Tents pitched for jail inmates
BATHINDA, Dec 7 — In an unprecedented move, the local Central Jail authorities have started pitching up tents to accommodate the increasing rush of inmates.
Minors taking to cybersex
HISAR, Dec 7 — Haryanvi adolescents have taken to voice-chat sex in a big way, posing serious problems for their parents many of whom now regret having jumped on to the Internet bandwagon.
3 ministers not to resign: Vajpayee
December 7, 2000
DGP Rathore in the dock
December 6, 2000
Mamata resigns, Vajpayee declines
December 5, 2000
4 more bodies extricated
December 4, 2000
40 die, 135 hurt in rail mishap near Rajpura
December 3, 2000
Man intrudes into Naval chief's house
December 2, 2000
Talwandi replaces Bibi
December 1, 2000
Decision left to Badal
November 30, 2000
Blast mars first day of ceasefire
November 29, 2000
Guns fall silent in Kashmir
November 28, 2000
4 jawans die in ambush
November 27, 2000