THE TRIBUNE MAGAZINES
On Mondays


On Sundays

On Saturdays

Centre's yes to 3 TDP demands
NEW DELHI, Dec 8 — TDP MPs today called off their dharna in the precincts of Parliament complex following an assurance by the Centre that it would meet three of their major demands on rice procurement from Andhra Pradesh through the FCI.
More Central forces for Assam
NEW DELHI, Dec 8 — The Centre tonight decided to rush 27 additional companies of paramilitary forces to Assam and intensify security operations in the border areas to check the activities of ULFA militants who have killed a number of Hindi-speaking people in the state.
IN PASSING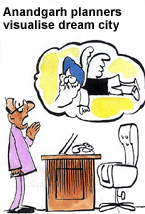 Sir, is this going to be a dream city or city in dreams?

Tension in Chilauli
RAE BARELI (UP), Dec 8 — The situation in Chilauli village in this district was today reported to be tense but under control, a day after group clashes broke out over a disputed structure by a particular community.
Show-cause notice to Haryana
Compensation to Ruchika's brother
CHANDIGARH, Dec 8 — Mr S.P.S. Rathore, the Haryana DGP who has been forced to proceed on leave, suffered another setback today when taking suo motu cognisance of a report in a section of the press and judgement in the Ashu Girhotra case, Mr Justice Mehtab Singh Gill of the Punjab and Haryana High Court issued notices to the state of Haryana, Chief Secretary, Home Secretary, the SHO, Panchkula and Mr Rathore to show cause why they should not be burdened with compensation to be paid to Ashu Girhotra, who was falsely implicated in six cases of theft.
Giani Puran Singh may be recalled
AMRITSAR, Dec 8 — Even as Giani Mohan Singh, Head Granthi, Golden Temple (one of the five Sikh high priests), has failed to get extension and was retired after attaining superannuation, the suspension of Giani Puran Singh may be revoked by the SGPC in the near future.
Two women die after tubectomy
SANGRUR, Dec 8 — Out of the 11 women who were operated upon for tubectomy on December 4 at a family welfare camp in the Mini Primary Health Centre at Khanauri village in this district, two women have died while the condition of six others is serious and three of them are battling for life.
Turmoil in Houses over PM's remark
December 8, 2000
3 ministers not to resign: Vajpayee
December 7, 2000
DGP Rathore in the dock
December 6, 2000
Mamata resigns, Vajpayee declines
December 5, 2000
4 more bodies extricated
December 4, 2000
40 die, 135 hurt in rail mishap near Rajpura
December 3, 2000
Man intrudes into Naval chief's house
December 2, 2000
Talwandi replaces Bibi
December 1, 2000
Decision left to Badal
November 30, 2000
Blast mars first day of ceasefire
November 29, 2000
Guns fall silent in Kashmir
November 28, 2000
4 jawans die in ambush
November 27, 2000