II
It was very disheartening to note that an IPS officer like Rathore, who has been entrusted with the responsibility of upholding the law could himself break the law and even refuse to respect the course of law.
It is obvious that the police harassed the Girhotra family with the intention of silencing them. One must appreciate the Anand couple for their determination in getting justice for Ruchika. What type of protection can a common man expect from the police department if it is headed by people like Rathore.
If the charges are proved, the Rathore should be punished. The government should take stern action against him so that the faith of common man in the rule of law remains intact. The family of Ruchika and the Anand family should also be given compensation for mental harassment.
SUNIL KAPOOR
Yamunanagar
In the company of great men
Khushwant Singh's column "This above all" (November 25) highlights the feeling of insignificance which burdens non-person in presence of men of great stature. If a person like the writer who himself is a celebrity can feel overwhelmed in the presence of V.S. Naipaul and Amitabh Bachchan then one can well imagine plight of mere mortals like us!
Even great men may feel inferior in front of men of greater stature. One should be able to hold oneself upright even in front of men who, by social standards, might fall in a higher category.
Leaving social categories aside, is it not wisely said that human values like truthfulness, sincerity, empathy, brotherhood etc. make the real men of stature.
SAROJ THAKUR
Hamirpur
Narinder Kapani
"The man who bent light" by Roopinder Singh (November 18) made interesting reading. It gave the readers an insight into the chemistry of hi-tech business, fibre optics and related matters. The exhaustive interview contained some valuable tips for students wishing to make a career in the field of fibre optics.
It is amazing how Narinder Singh Kapani is going great guns even at the age of 70. It speaks volumes for his indomitable spirit. The way he worked hard and earned name, fame and wealth, inspires those who aspire to achieve something extraordinary. Having so much to his credit the pioneer of fibre optics unassumingly gives credit to other investigators who, he says, contributed a lot to the field.
TARSEM S. BUMRAH
Batala
Fashion fallacies
Apropos of Des Raj Pathania's letter "Fashion fallacies" (November 25), Indians have started imitating western fashions without bothering whether these jell with our traditions, customs and climate or not. We are subjecting ourselves to too much stress in selecting proper dresses and outfits. We worry incessantly about the dresses we should wear. The emotional strain thus caused leads to stress. We should, therefore, adopt a take-it-easy attitude.
O.P. SHARMA
Faridabad
Urdu poetry
In his regular column "This above all" (November 25) Khushwant Singh has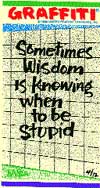 misquoted a couplet of Ghalib.
The correct couplet is as under:
Dil he to hai na Sang-o-Khist
Dard say bhar na aaiye kyon
Royein gey hum hazzar baar
Koee hummein sataye kyon.
In the second Misraa, he has written Ro dengey instead.
H.K. LALL
Chandigarh