Today there seems to be little morality left in our value system. The institution of patriarchy has perpetuated male dominance throughout the ages which has led to crimes against women at all levels— the family, the community and the workplace. Only a few of such cases are reported. The majority of the women don't go out to the police just because they say: "Jo aurat thaane aa gayi woh theek nahin hai". It is not the police and the machinery alone that is to be blamed for such a preconceived notion but our people too generally carry such biases against women. It is indeed amazing that Anand Prakash and his wife and daughter are determined to take this case to its logical conclusion against all odds. Our people need to support such persons who are fighting for a cause. In a society where women are not respected, all claims of its progress are fake and dubious.
D.P. SINGH MOR
Patiala
II
The latest 'face of shame' to hit the headlines is that of Haryana DGP SPS Rathore. How can a man who allegedly stooped so low be the state's police chief! I wonder how he became the DGP when an inquiry was marked against him when he was an IGP.
Rathore could neither bring down the crime rate nor did he effect any major reforms in the Haryana police. He abused his power and position. It is unfortunate that he got Ruchika's brother falsely implicated in as many as six cases of auto-thefts and got him brutally tortured, as alleged. Ruchika was driven to commit suicide and, therefore, recourse to Section 306 of the IPC (abetment of suicide) should have been taken. Had she not committed suicide, she would have been alive today and may have been a national level tennis player by this time. This whole episode and consequent torture of her brother made her an introvert. She had to undergo agony, frustration and mental torture only because of Rathore.
Timely action against Rathore would have saved Ruchika's life. Failure of the CBI to charge Rathore under Section 306, IPC, has defeated the truth, and the selfless and untiring efforts of Madhu and Anand Prakash have not been fully rewarded. Rathore loyalists and women organisations who are supporting Rathore should reconsider their stand.
Justice in this case has been denied so far. Let us hope that CBI will add Section 306 of the IPC to the charge sheet and also charge him with abuse of power so that public confidence is not shaken in the fair functioning of the CBI.
None can bring back Ruchika, but the CBI and the judiciary should do justice to her case. The Indian judiciary has to ensure that democracy does not turn into demon-cracy.
ANSHUL JOY
Chandigarh
III
Ruchika's case is a bizzare incident of misuse of official powers by a high-ranking officer of the police. Rathore left no stone unturned to drive the ill-fated family to the point of extinction. The whole family was subjected to miseries simply to protect the DGP. Her brother and father were implicated in false cases so
as to gag their voice of protest. It is surprising that in spite of an inquiry into the alleged case nothing was done to dispense justice to the aggrieved family. Also Ruchika committed suicide in 1993, that is; three years after the incident, but none of the NGOs come to the rescue of the family when it was in dire straits.
Acerbic tongues too added fuel to the fire, which hastened the end of a budding career. Rathore, however, remained out of the ambit of law after committing the crime and enjoyed all the powers, facilities attached to the high office.
Even if he is convicted now, Ruchika will never come back. We, the silent spectators to the horrendous crime, can never be fully absolved from our responsibility towards society. The Haryana Chief Minister must read the writing on the wall and sack Rathore immediately.
KARNAIL SINGH
Ranjit Sagar Dam
IV
The article brings to fore the sickness that has set in our society. This sickness is made worse by the fact that the offence has been committed by a very senior police officer, in this case, the present DGP, Haryana.
On the other side it is indeed very heartening that there are courageous, noble and dedicated people like Anand Prakash and his wife Madhu Prakash, who have shown tremendous courage in fighting a long and protracted legal battle to bring the culprit to book. The tireless efforts of this couple, in spite of intimidation, have finally clinched the issue and the CBI
has filed a charge sheet against the DGP in the Punjab & Haryana High Court. It is hoped that the High Court and the Supreme Court will do justice and ensure that Rathore is awarded heavy punishment.
K. RAJINDRA SINGH
Jammu
V
Rathore has set a bad example for a public servant. A serious offence like this one should be dealt with strictly as per the law of the land. High official status or political links of the individual involved should not deter the authorities concerned from meting out justice.
It would have been appropriate for Rathore to opt to resign on his own. His sticking to the chair only makes his guilt obvious.
Rathore's not vacating his seat despite serious allegation against him only shows how an individual can stoop low to protect and promote his own selfish ends.
K.L. NOATAY
Shimla
VI
It is horrible to that a highly-ranked police officer created such a situation that a girl was forced to commit suicide. DGP SPS Rathore not only molested Ruchika but when she tried to raise a voice against this act of oppression, her family was subjected to physical and psychological torture.
Such incidents only convey the message what we have is a sham of a democracy, not a real one. Democracy is only for those who have power and money. This system has denied justice to a minor girl.
But at the same time some people are fighting against injustice so that democratic values may not lose their meaning. Madhu Prakash and Anand Prakash are fighting for justice against all odds. They are the role models of our society.
The Haryana Government must immediately suspend DGP SPS Rathore so that Ruchika may get justice. Many girls who are confronted with similar situations in their lives, may get the courage to come forward and fight against oppression.
PARMOD and 4 others
Yamunanagar
Old age
In his write-up "Lament for old age" (November 18), Khushwant Singh has quoted Nazeer Akbarabadi's verse: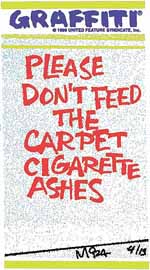 Javaani jaati rahi aur hamein patah
bhi na chala/usi ko dhoond
rahey hain kamar jhukaaey huey.
Once some, naughty children jokingly asked and old man, whose back was bent, as to from where he got the bow. He quipped:
Umr ko pahuncho gey tum meri jis ann/
Muft mil jaaey gee tum ko ye
Kamaan ("Kamaan" means bent back).
Physical weakness, mental impairment, decline in hearing and sight and a number of other diseases result from old age.
Yet people who have will-power are not depressed by old age. They cheerfully face the troubles caused by ageing. It is not the wrinkles of face, but those of heart that make the old people low-spirited.
BHAGWAN SINGH
Qadian