"The first step is to train for the Asiad. There are many competitions till 2004, my daughter will try to win most of them", says Vijay Pal. Seema is in Delhi working and training with the CRPF. The Haryana government has given her a cash award of Rs 1 lakh and the Sports Ministry has promised to help her in any way it can. Her simplicity is touching and so is her confidence in herself. From Sonepat to Santiago, the achievement of Seema is a lesson to all.
Samrat of magic
IRRESPECTIVE of our age, we all love watching magic shows and get taken in by the tricks performed. One saw Samrat Shankar perform and watched in wonder as he produced grey ash out of my ring. From a piece of paper that I gave him, he conjured up Rs 100 and then suddenly it became a stash of notes. Even while being interviewed, he demonstrated many other magic tricks.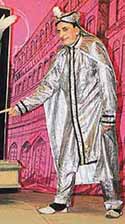 Master Shankar was born in a bania family of Sirsa. There was nothing in his upbringing which was remotely connected to the profession he adopted later in life. In fact, his father was totally against his son's obsession. At a young age, Shankar witnessed a magic show and got hooked to it for life. He started by learning from every magician he came across and got his final grooming from B.N. Sorcar. In deference to his father's wishes, he completed M. Com and did not neglect his studies.
His professional skills came to the fore in 1981 at the All India Magic Competition, where he won the award for the Best Magician of the East. The following year, he won the Indian Magic Competition Award. Honours have poured in from state governments. His name has even been recommended for Padma Shree.
A simple person, Shankar has no hesitation in saying that magic is a skill and there is "nothing God-given about it." He has worked his magic in front of the rich and the famous of the land. He made Narasimha Rao write on a paper and sign and then made his man read the paper which said that Rao had resigned. Rao was stunned because he had written something else. He played a similar trick on Rajiv Gandhi. He is famous for driving a motor cycle blindfolded.
He heads a troupe of 60 people and has to work hard to compete with television and films. He has to put up a production which is sleek and glamorous and retains the viewers' interest for three hours. Shankar is, however, worried about the future of this art and laments, "It is a very old kala which is dying. We need to start an academy to teach new entrants this great skill. I am ready to teach but I need land to start the academy. Jadoo is connected to yoga, it is control of oneself. This art can be misused. I have never done it, so many saffron-clad people come to me to learn magic but I do not teach them as they will misuse it in the name of God."
Shankar says it is like other art forms, and a daily sadhna of at least for four hours has to be done. "I have to innovate and learn new items. These days I am trying to learn how to walk on water." He emphasises how magic started in Bengal andOrissa, and initially madaris used to perform it.
His son Junior Shankar (17) is following in his father's footsteps and has started giving performances. Shankar's biggest achievement is that out of the 15000 shows that he has done, two-thirds were for charity. Last year, Shankar donated Rs 1 crore to the Kargil Fund. For a good cause, this great magician is ever ready to offer his services free of cost.
— Belu Maheshwari