Bhogal Ram with Pakistan Rangers coming from the Pakistan side at the Wagah border on Monday. — PTI photo
Home they come from Pak jails
Tales of harrowing experiences told
WAGAH, Dec 18 — The two Indian prisoners, Kharaiti Lal and Bhogal Ram, repatriated by Pakistan while narrating harrowing experiences there said hundreds of Indians were languishing in various jails of Pakistan even after completion of their sentence.
THE TRIBUNE MAGAZINES
On Mondays


On Sundays

On Saturdays

IN PASSING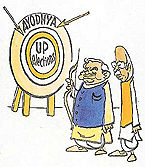 We have achieved our goal by missing the target!

Dangi's remand extended
ROHTAK, Dec 18 — The Special Judge, Mr Shiva Sharma, today extended the judicial remand of former Revenue Minister, Mr Anand Singh Dangi, pending investigation and directed that he should be produced in the court on January 1.
Power supply to Zail Singh's house cut?
NEW DELHI, Dec 18 — A member of the Bahujan Samaj Party today claimed in the Lok Sabha that the power supply at the residence of late President Zail Singh, which is occupied by his widow now, has been disconnected for the last 18 days, prompting the Home Minister, Mr L. K. Advani, to intervene.

Bush names Rice Security Adviser
AUSTIN, Dec 18 — President-elect George W Bush named trusted foreign policy aide Condoleezza Rice, 46, who is of African descent, as his White House national security adviser today.


Night curfew clamped along Bhutan border
GUWAHATI, Dec 18 — Indefinite night curfew has been imposed along the Indo-Bhutan border in apprehension of the killing of innocent people by extremists.
Hardliners overshadowed
JAMMU, Dec 18 — The All-Party Hurriyat Conference (APHC), a conglomerate of 23 organisations, has overshadowed the hardliners within the party by not accepting the line which senior Jamait-e-Islami leader, Syed Ali Shah Geelani, had favoured.
HER WOR(L)D
Involve Pak in talks: APHC
December 18, 2000
2 jawans die in suicide attack
December 17, 2000
BJP gets tough with allies
December 16, 2000
Cong censure motion defeated
December 15, 2000
Bush emerges winner
December 14, 2000
Govt relents on Ayodhya
December 13, 2000
Discussion under Rule 184 rejected
December 12, 2000
Sharif, family exiled to Saudi Arabia
December 11, 2000
Govt ready to discuss issue under Rule 184
December 10, 2000
Allies want PM to withdraw remark
December 9, 2000
Turmoil in Houses over PM's remark
December 8, 2000
3 ministers not to resign: Vajpayee
December 7, 2000