Instead, these ought to be made on small roads, at the points where these small roads join the main road. Traffic on the main road has the right of way, and it should be able to pass smoothly, without any hindrance. When a vehicle coming from a side road ventures onto the main road, it is supposed to slow down to give way to the traffic on the main road.
Vivek Khanna
Panchkula
Translating verse
In his write-up "Letter from Islamabad" (November 25), Khushwant Singh has translated Mirza Ghalib's verse,
Dil hee to hai na sang-o-khisht dard sey bhar na aaey kyon
Roein gey ham hazaar baar koee hamein sataaey kyon, as under:
My heart is not made of brick or stone,
why should it not fill with pain? Why should anyone pester me, I will cry a thousand times again and again.
'I will cry a thousand times' is an appropriate translation of Roein (not ro dengey, as mentioned by him) gey ham hazaar baar. He has used the words 'again and again' simply because these rhyme with 'pain'. These are redundant.
My literal translation of the verse is as under:
It's my heart, not a brick or stone.
Full of pain, why should not it be.
I will weep a thousand times. Why should anyone torment me.
BHAGWAN SINGH
Quadian
Urban mess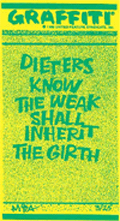 Khushwant Singh, in his article titled "Metros bursting at the seams" (December 9) has lamented the deteriorating quality of life in our cities. In recent years, urban growth in India has become alarming. By the year 2020, there will be an estimated 550 million people living in urban areas and five years after that India's urban population will make up half of its population. That would place extra burden on the already strained transport system and water supply and sewerage facilities in cities and towns across India.
We must think of solutions in anticipation of problems. A coherent, rather than departmental, approach is needed when dealing with urban planning. Exodus of population from rural to urban areas should be checked. In cities, separate programmes for sanitation and water supply should be put together to tackle the problem.
SURINDER KUMAR
MARWAHA
New Delhi