Exchange of gifts has been a part of our cultural milieu since antiquity. But our social norms and values have changed over time, and the paradigm shift in the essence of giving and receiving merits a closer look. Lord Krishna, receiving a gift from Sudama, captures the ethos of the Indian philosophy behind this tradition. Krishna's and Sudama's friendship transcended all barriers of caste, religion and creed. Sudama gifting him a handful of rice and Krishna receiving it most humbly and then deliciously savouring it embodies the true spirit of giving and receiving a tangible gift. Although conscious of the difference in social status, aware of the fact that Lord Krishna was used to seven-course meals eaten out of ornamental vessels, Sudama took his bundled packet and with love in his eyes and devotion in his heart, handed the same to his childhood friend. Krishna, on his part, descended from his throne, hugged his travel-weary friend, took the crushed, soiled packet from his hands and ate the rice, relishing every morsel of it, thanking his friend for his thoughtful gesture. This incident shows that giving and receiving is a two-way process that gives both the giver and the receiver genuine happiness and pleasure, adding yet another dimension to the bond they share.
The crackling of cellophane paper, the excited anticipation of guessing what the package holds and the impatient unwrapping of the gift is an experience that is savoured universally, irrespective of age, nationality, gender or class. In fact, gifts are supposed to be delivered wrapped in love and emotion. The heart brims over with joy as one feasts one's eyes on something that has been brought specially with the receiver in mind.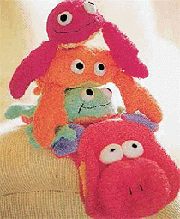 Talking of the present, one cannot help but wonder about the changing intent underlying this process. Bob Dylan has very aptly remarked: "The times they are a changing." The entire process of gifting today has acquired a totally new dimension with its roots in extreme materialism — something that has influenced almost every facet of our living. It has become more of a public relations exercise with 'favour seeking' and 'cultivating goodwill' as the end objectives. Whether it is exchanging gifts on Valentine's Day, Divali, Christmas or on occasions like birthdays, anniversaries, marriages, the transaction has acquired a glitter and chutzpah that sadly ignores the sentiment behind gifting.
Gifts are exchanged with an intent, with a purpose to fulfil. The corporate world has been a trendsetter here. The chief of a telecom major in the region, says: "It has become more of a public relations exercise with 'favour-seeking' and 'cultivating goodwill' as the objectives. We have a separate department to take care of what to gift on what occasion to which set of people. Categories of gifts are chalked out on the level of usefulness of contacts — clients, bureaucrats, politicians, mediapersons. A lot of thought and planning goes into the entire gifting exercise because there are many fragile egos we are dealing with."
A public relations executive of a private hotel, narrating an experience that is representative of this trend, remarks: "People in the government and media had called us up a few days after Divali, airing their grievances— either they were complaining about the gift not being at par with what a colleague of theirs received or their names had been left out. Whether it is voluntary or otherwise, organisations distribute gifts to ensure smooth functioning of their businesses and to be in the good books of the authorities. The fear of stumbling on roadblocks makes the companies appease the authorities."
It is a sad comment on the social fabric of our times that even in personal relations the expectation of receiving gifts has tarnished the very concept of voluntary gifting. There is a compulsion attached to gifting, lest delicate relationships get jeopardised. Neera Mahanta, a lecturer, says: "You are expected to give gifts to relatives and friends lest they feel bad. It is a pleasure to distribute gifts, but what becomes tricky is when the receiver starts assigning value to the gift, comparing it with what others have given him or trying to see if it compensates for what he had given to you on another occasion. That destroys the entire sentiment, pleasure and spontaneity attached to the gifting process."

In today's world, where consumerism and brand consciousness is at its peak, exchange of gifts is seen more as an investment — as seeds sown to reap a better harvest at some future date. In the process, we tend to forget people closest to our heart as we start taking them for granted. This practice, though a regularity in the modern world, is not a recent phenomenon. The Greeks and Romans frequently gave gifts to win over enemies and for other purposes. The gifts were given to make a person obliged, much like investing in a long-term deposit which would mature in a stipulated period of time, doubling or tripling the initial investment. The basic percept was that a person who receives a boon gets buried under the obligation of returning it. The philosophers of the time had a different viewpoint, that a boon ceases to be such, if it is conferred with the inferior motive of prospective gain,
but all the same conceded the fact that no sooner an action is done, a return is contemplated and the giver is likely to overrate the value of his beneficence.
The giant strides made by the human race in other spheres of living have been extended to this custom as well. Modern-day practitioners have almost perfected the art of hypocritical benevolence. The procedure has been institutionalised, with a covert set of rules and conventions. For example,the choice of gifts to be given to a particular person
depends on the pecking order of the individual in society. So a middle level officer may have to make do with an ordinary tea-set as opposed to a senior officer who is entitled for a bone china set of good quality. These are the people who give for gaining recognition.
This phenomenon has obscured the very genesis of giving. Kahlil Gibran has this to say about the giving process:
"It is well to give when asked, but it is
better to give unasked, through understanding
And to the open handed the search for
one who shall receive is joy greater than giving"
Apart from their inherent beauty, these words provide meaningful counsel to all of us. Anything given just for the pleasure of giving is a source of unbridled joy to the giver. Each one of us has somebody or the other in our lives, a spouse, a love, a true friend, someone whom we hold in high esteem, or simply somebody whom we like, to whose lives we would like to bring happiness and joy no matter how momentary these are. Ayn Rand, the propagator of the philosophy of objectivity, says that behind the act of gifting there's a selfish desire. Every individual ultimately looks for happiness in his or her life. And it gives us tremendous joy when we feel that we have been been able to bring happiness to the lives of individuals whom we genuinely love. The giving of gifts to the people one loves is something that can fulfil this motive.
The Japanese ritual of opening the gift in front of the giver embodies this spirit of derived happiness. The glow of joy on the other person's face is a sight to behold. We often are embarrassed unwrapping a gift in front of the giver. We feel it might make him feel small and exposed, especially in front of others. Many of us also refrain from making a mention of the gift in subsequent meetings. It is not that we have taken the gesture for granted but that we are uncomfortable talking about it. If the person who has presented the gift to you doesn't mind your opening it, you could unwrap it in his presence and let him see your unadulterated expression of joy. It would make his gesture worthwhile.
Presenting a gift without any materialistic goal is a spontaneous act. It really does not require any special occasion, for it is the feeling behind the act that matters the most. Anuj Mahajan, an entrepreneur, maintains: "In such cases the monetary value of he gift does not hold much significance. A simple flower can be a better gift then something costly like a gold chain. The important part is that one should be able to put one's feelings across to the person one loves and cares for."
But then there are others who consider exchange of gifts a totally futile exercise. Kulbhushan Sharma, a fashion designer with a leading exporter, maintains: "Gifts become essential only when one is not able to express one's feelings in a suitable manner. There is no point in expressing your feelings to someone like your spouse or for that matter someone whom you love through a gift. There are countless other ways to show that you care because the level of understanding between the two is very high. We usually send gifts to the people whom we want to impress for some reason or the other."
One cannot sit on judgement on the various motives for giving gifts, since the trends prevalent in society at a particular time are shaped by the needs of the individuals during that period. But surely the materialistic mentality deprives us of something that is a source of unbound happiness.
Kahlil Gibran sums it up succinctly in these words:
"For in truth it is life that gives unto life —
while you, who deem yourself a giver are but a witness.
And you receivers — assume no weight of gratitude,
lest you lay a yoke upon
yourself and upon he who gives"