"He told me that if you want to find God you wonít find him in the temples. He resides in the homes of the poor," recounts Kalyan. Religiously following this advice, Kalyan Dev embarked on a relentless campaign to help the poor and underprivileged. Though himself virtually unlettered ó Dev has only studied uptil class one in school ó he had the foresight to recognise that the underprivileged could only be uplifted through education.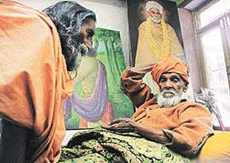 Thus began his marathon pursuit to provide free education to the poor. Now nearly a century later, there are more than 300 educational institutions, including full-fledged degree and professional colleges which owe their existence to him. These institutions are run on a no-profit, no-loss basis in the North-Indian states of Himachal Pradesh, Haryana, Uttar Pradesh and Rajasthan. Children of poor families flock to these schools and colleges to get free education. Most of the students of these colleges are so grateful to Kalyan Dev that they have become his devotees. Dev, however, does not control the day-to-day running of these institutes. After establishing them, he leaves their management to social institutes and trusts.
Kalyan Dev occupies a dingy little room in one of his polytechnic colleges in Muzaffarnagar. But he does not take a penny from these institutes and leads a life of self-inflicted penury. It is not uncommon to see him wearing a soiled and frayed sweater or jacket. Kalyan Dev is so finicky about not touching the money of his institutes that even his meal is ordered from a poor manís house from the nearby villages. He eats one meagre meal a day, which consists of two rotis and dal.
When asked about the secret of his long life ó a question asked of him almost always ó a frugal meal is one of his prescriptions. Besides spartan food habits, walking and celibacy, he says, promote health and longevity. And this is a lifestyle Dev has followed assiduously ever since he left for the Himalayas in spiritual quest at the age of 10.
But knowing well that his ideals are near impossible for the modern youth to follow, he gives a fatalistic answer. "Just like one has a ticket to travel different locations on earth, there is a ticket for age God has for everyone. The tickets are made for different destinations. It is just that I seem to have a ticket for a longer stay."
Frail and bent with the burden of his years, Devís voice is now a hoarse whisper and he can barely hear. Toothless, his cheeks are sunk in and his glazed eyes are sunk deep into the sockets. But surprisingly Kalyan Dev is brisk and unpredictable in his movements. His closest disciple Swami Omanand Brahamachari and his other followers who chaperon him find it difficult to keep pace with him. Age may have withered him but his body is ailment-free. "He does not suffer from either high or low blood pressure, diabetes, or any other problem", says Omanand.
Though he lives in Muzaffarnagar, Kalyan Dev never fails to make the 30-kilometre-long journey to Sukhratal ó a tiny township that owes its prosperity to him. When Dev visited Sukhratal in 1944, it was just a stark moorland on the banks of the Ganga. According to Dev, Sukharatal has a special place in the epic Ramayana and was once a great pilgrimage town for the Hindus. Wedded to religion, Dev decided to restore Sukhratalís glory as a Hindu pilgrimage centre. Thanks to his efforts, Sukhratal is now not only an important place of pilgrimage but also a much frequented tourist locale. People flock to the temples in hoards but consider their trip incomplete unless they pay obeisance to Kalyan Dev too. Young mothers can be seen goading their little children to touch his feet and seek his Ďauspiciousí blessings. Dev on his part tirelessly blesses and gives prasad.
A majestic figure of the bygone era, Kalyan Dev remains in complete command of his work. He commands, he admonishes, he cajoles at whim and his followers are only too willing to listen to anything he has to say to them. Even the President of India, K.R. Narayanan, had a taste of his ebullient spirit while presenting him the Padma Bhushan award this year. In an obvious breach of protocol, Kalyan Dev wrapped one arm around Narayananís shoulder. Those in the regal portals of the Rashtrapti Bhawan were aghast but not Narayanan, himself known for his convention-defying ways. The President simply bowed reverently to accept the blessings of this seer.