Tuesday, December 26, 2000,
Chandigarh, India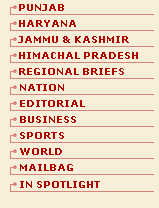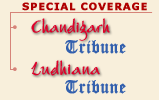 B R E A K I N G S T O R Y
Major breakthrough in Red Fort shootout
One killed, another held
NEW DELHI, Dec 26 (PTI) — In a major breakthrough in the five-day-old shootout inside the Red Fort, the Delhi police arrested one militant of the Lashkar-e-Toiba while it shot dead another after an encounter in the wee hours today in South Delhi.
In a pre-dawn swoop, the sleuths forced entry into a residential complex at Jamia Nagar, where the militants were hiding, senior Delhi police officials told PTI.
They said they got a clue from Vijay Ghat, where these militants had hidden their weapons after the Red Fort attack in which three persons, including two Army personnel, were killed.
The officials said when the police, assisted by other central agencies, entered the house, they had to face a barrage of bullets and in the ensuing encounter one militant was killed while another was arrested.
While Abu Shawal was killed, the arrested militant has been identified as Ashaf Ali alias Abu Ahalah, they said, adding both of them belonged to Pakistan.
The Police recovered one AK-56 rifle, some ammunition and two hand grenades, besides documents revealing the identity and affiliations of these two with the Lashkar-e-Toiba.