THE TRIBUNE MAGAZINES
On Mondays

On Sundays
On Saturdays
Shimla wears white mantle
Hindustan-Tibet road blocked at Kufri
SHIMLA, Jan 1 . After several years, snow kept its date with the New Year and turned the entire town and its adjoining areas white this morning.The town received the season.s first snow today.

A couple enjoys the first snowfall at Kufri on Monday. . Tribune photo by Pankaj Sharma
IN PASSING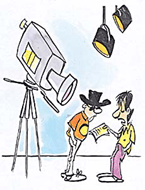 Sir, I want to become an actor and this is the controversial statement I wish to issue to become popular!

Mohinder Singh joins LJP
Pledges issue-based support to HP Govt
NEW DELHI, Jan 1 . A former Public Works Department Minister in Himachal Pradesh, Mr Mohinder Singh Thakur, today joined the Lok Janshakti Party (LJP), the new political outfit floated by the Union Communications Minister, Mr Ram Vilas Paswan. Mr Mohinder Singh said the party would extend issue-based support to the Himachal Government.
Golden Temple artwork


Destruction or preservation!
AMRITSAR: .It is a shame ... why can.t you use natural pigments for preserving this great heritage?.

Georgians and rare Mohrakashi work (left) in Darshani Deori now replaced with gold embossing (right).
. Photos by Balvinder Singh
Qureshi.s transfer stayed
January 1, 2001
Dawood-ISI nexus in Nepal
December 31, 2000
Hijacker back after 30 yrs
December 30, 2000
Protect Indians, Nepal told
December 29, 2000
Red Fort attackers. accomplice shot
December 28, 2000
Ultra behind Red Fort attack shot
December 27, 2000
Major breakthrough in Red Fort shootout
December 26, 2000
No headway in Red Fort case
December 25, 2000
It was a five-minute work of 2 militants
December 24, 2000
Ultras storm Army camp in Red Fort
December 23, 2000
Hurriyat team leaves for Pak on Jan 15
December 22, 2000