THE TRIBUNE MAGAZINES
On Mondays

On Sundays
On Saturdays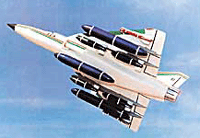 LCA puts India in select group





The first prototype of the light combat aircraft (LCA) on its maiden flight in Bangalore on Thursday. . PTI photo

Hurriyat in catch-22 situation
Jehad Council refuses to hold talks
JAMMU, Jan 4 . The APHC has been placed in a catch-22 situation with the Muttahida Jehad Council comprising 15 militant groups announcing its refusal to hold talks with India.
Pak intruder shot dead on Punjab border
AMRITSAR, Jan 4 . The BSF foiled an infiltration bid and killed a Pakistani intruder suspected to be a trained militant near Khangarh border outpost, about 150 metres away from the Wagah international checkpost, on the intervening night of January 2 and 3.
IN PASSING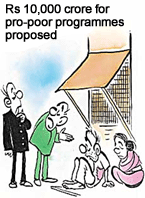 Sir, they are demanding internet, net phones and laptops, not housing, water and development projects!

Blackouts in the offing
Absence of power reforms
New Delhi, Jan 4.As Indian whizkids are rewriting technology history in the digital precincts of Silicon Valley, the country.s power sector is yet to respond to the IT revolution which is waiting to radically change our lives.
Point 5353 claims first victim
NEW DELHI, Jan 4.The latest controversy generated on the touchy Point 5353 peak in the Kargil region of Jammu and Kashmir, where the Defence Minister, Mr George Fernandes, was quoted as saying that he had visited the area and got himself photographed, has claimed its first victim.
Edit: Importance of Point 5353
Clash averted minutes before CM.s arrival
SUNAM, Jan 4 . Just five minutes before the arrival of Mr Parkash Singh Badal, Chief Minister, Punjab, to lay the foundation stone of a 50-bed modern hospital in the existing hospital complex here, the timely intervention of the police averted a clash between two groups belonging to local Sitasar Sarovar Kar Seva Coordination Committee.s supporters and members of a particular community who also claim their right over the land.
States overloading grid
January 4, 2001
North plunges into darkness
January 3, 2001
.We shall be bold, innovative on Kashmir.
January 2, 2001
Qureshi.s transfer stayed
January 1, 2001
Dawood-ISI nexus in Nepal
December 31, 2000
Hijacker back after 30 yrs
December 30, 2000
Protect Indians, Nepal told
December 29, 2000
Red Fort attackers. accomplice shot
December 28, 2000
Ultra behind Red Fort attack shot
December 27, 2000
Major breakthrough in Red Fort shootout
December 26, 2000
No headway in Red Fort case
December 25, 2000