Saturday, January 6, 2001, Chandigarh, India
Updated at 3 am (IST)
18 massacred in Bengal
Trinamool blames CPM, seeks President.s rule
MIDNAPORE, Jan 5 . At least 18 persons, including four children, were massacred allegedly by CPM activists at Garbeta in Midnapore district late last night, hours before the Trinamool Congress-sponsored Bangla bandh began this morning.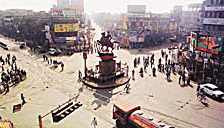 A usually very busy intersection in Kolkata is devoid of traffic on Friday during a 12-hour strike called by the Trinamool Congress following clashes which left many dead.
. AFP photo

CAST YOUR VOTE
Will Hashim Qureshi play a major role in the J&K peace process?