THE TRIBUNE MAGAZINES
On Mondays

On Sundays
On Saturdays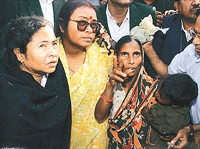 Anisa Bibi (right) shows the charred remains of her two-storeyed house to Railway Minister Mamata Banerjee (left), who also heads the Trinamool Congress, at Chhoto Angaria village in Garbeta, 200 km west of Kolkata, on Saturday. — Reuters photo
Punjab sells Rajasthan property
ABOHAR, Jan 6 — A fact-finding team of revenue and irrigation officials from Rajasthan is likely to visit Ferozepore district next week to conduct a probe into reports that the Punjab Government had sold rest houses which actually belonged to the Rajasthan Government around the Gang canal.
IN PASSING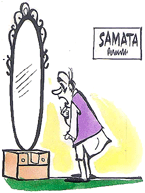 No chance of division any more. I am left alone!

Another spell of snow in Himachal
SHIMLA, Jan 6 — Higher reaches in Himachal Pradesh experienced another spell of snowfall while the sky remained partially cloudy in the region today. High altitude areas in the tribal districts of Lahaul Spiti and Kinnaur and the Pangi and Bharmour areas of Chamba district had fresh snowfall today.
Surprise at VHP proposal
NEW DELHI, Jan 6 — The Babri Masjid Movement Coordination Committee has expressed surprise over the VHP's announcement of negotiations on the Babri masjid question.




SGPC stops sale of book edited by Vedanti
AMRITSAR, Jan 6 — The Shiromani Gurdwara Parbandhak Committee has stopped the sale of controversial book "Gur Bilas Patshahi 6", edited by Giani Joginder Singh Vedanti, Jathedar Akal Takht, and an eminent Sikh scholar, Dr Amarjit Singh. The book was published in June, 1988, to mark the 400th birth anniversary of sixth Sikh Guru Hargobind Sahib.
18 massacred in Bengal
January 6, 2001
Nitish resigns
January 5, 2001
States overloading grid
January 4, 2001
North plunges into darkness
January 3, 2001
'We shall be bold, innovative on Kashmir'
January 2, 2001
Qureshi's transfer stayed
January 1, 2001
Dawood-ISI nexus in Nepal
December 31, 2000
Hijacker back after 30 yrs
December 30, 2000
Protect Indians, Nepal told
December 29, 2000
Red Fort attackers' accomplice shot
December 28, 2000
Ultra behind Red Fort attack shot
December 27, 2000