BMAC rejects talks offer
Temple will be built, says VHP
LUCKNOW, Jan 7 .A confrontation has erupted between the Vishwa Hindu Parishad and the Babri Masjid Action Committee over the construction of the Ram Temple at Ayodhya, with the latter rejecting any talks on the issue.
Talwandi under pressure
Appointment of Puran Singh
AMRITSAR, Jan 7 . Mr Jagdev Singh Talwandi, President, SGPC, is reportedly under pressure to revert Giani Puran Singh as Granthi, Golden Temple.
Nine rail officials kidnapped
AGARTALA, Jan 7. For the first time in Tripura.s history of militancy, tribal guerrillas today kidnapped nine officials of North-East Frontier Railway today.
THE TRIBUNE MAGAZINES
On Mondays

On Sundays
On Saturdays
Cold claims life in Punjab
CHANDIGARH, Jan 7 . Cold wave claimed life of one beggar in Punjab even as mercury remained below normal in most parts of Punjab, Haryana and Chandigarh with temperature touched four degrees below normal in Ludhiana making it the coldest place in the region.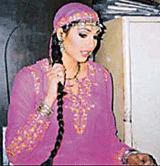 Yukta enters Bollywood with .Pyasa.
SHIMLA, Jan 7 . Miss World 1999 Yukta Mookhey today entered Bollywood by making her maiden appearance before the camera for the film .Pyasa..

Former Miss World Yukta Mookhey strikes a pose for a shot for the film .Pyasa. in Shimla on Sunday.
APHC visit to pave way for talks
ISLAMABAD, Jan 7 . Claiming that .substantial. progress had been made on the Kashmir issue, Pakistan President Rafiq Tarar has said the coming visit by a Hurriyat Conference delegation to Pakistan would pave the way for tripartite talks on the issue.
ISI out to scuttle peace process
JAMMU, Jan 7 . Pakistani military regime headed by Gen Pervez Musharraf and the ISI top brass differ on the response Islamabad should show towards the peace process initiated by Prime Minister Atal Behari Vajpayee.
Centre gives in to APHC demand
January 7, 2001
18 massacred in Bengal
January 6, 2001
Nitish resigns
January 5, 2001
States overloading grid
January 4, 2001
North plunges into darkness
January 3, 2001
.We shall be bold, innovative on Kashmir.
January 2, 2001
Qureshi.s transfer stayed
January 1, 2001
Dawood-ISI nexus in Nepal
December 31, 2000
Hijacker back after 30 yrs
December 30, 2000
Protect Indians, Nepal told
December 29, 2000
Red Fort attackers. accomplice shot
December 28, 2000
Ultra behind Red Fort attack shot
December 27, 2000