THE TRIBUNE MAGAZINES
On Mondays

On Sundays
On Saturdays
Samata patch-up chances better
NEW DELHI, Jan 8 . Chances of a patch up in the Samata Party today seemed to have brightened up with the dissidents today deciding to withdraw their decision to boycott the party.s national council meeting in Mysore, which began this morning.
Talks will be held: Katiyar
NEW DELHI, Jan 8 . Despite being cold-shouldered by the Vishwa Hindu Parishad and the Bajrang Dal on his proposed Ayodhya talks, Bharatiya Janata Party MP Vinay Katiyar today insisted that the January 13 talks would be held in Lucknow as scheduled even as he claimed some more breakthrough in his personal contacts with Muslim leaders on the issue.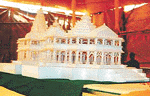 A model of the proposed Ram temple on display at Allahabad, where the Mahakumbh Mela begins on Tuesday. . Reuters photo

BMAC convenes meeting for Feb 1
NEW DELHI, Jan 8 . In an apparent move to seize initiative over Ayodhya after the virtual failure of BJP MP Vinay Katiyar.s offer for talks with Muslim leaders, the Babri Masjid Action Committee (International) (BMAC) has convened a .conference of members of all communities. in the Capital on February 1 to find out ways and means of a negotiated settlement of the vexed issue.

HER WOR(L)D
IN PASSING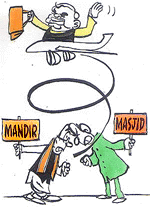 WB .fit case. for Central rule
CID probe into massacre ordered
KOLKATA, Jan 8 . The West Bengal Government today ordered a CID inquiry into the alleged massacre of Trinamool Congress workers at Garbeta in Midnapur district, even as NDA team leader Vijay Goel described the incident as a clear example of .state-sponsored terrorism..
Bharat Shah arrested
MUMBAI, Jan 8 . In a major development in the .Chori Chori Chupke Chupke. case diamond merchant and the film.s financier Bharat Shah was today arrested and remanded to police custody till January 18 by a special court here, sending shock waves in Bollywood and the Bombay Stock Exchange plunging 63 points.
UJC terms for ceasefire
NEW DELHI, Jan 8 . Pakistan-based United Jehad Council (UJC) has said it will agree to a ceasefire in Jammu and Kashmir only if India accepts its three conditions.
SGPC, district admn lock horns
AMRITSAR, Jan 8 . The Shiromani Gurdwara Prabandhak Committee (SGPC) and the district administration have locked horns over the construction of fourth phase of .galliara yojna. (beautification of the surroundings of the Golden Temple).
Patch-up efforts by George fail
January 8, 2001
Centre gives in to APHC demand
January 7, 2001
18 massacred in Bengal
January 6, 2001
Nitish resigns
January 5, 2001
States overloading grid
January 4, 2001
North plunges into darkness
January 3, 2001
.We shall be bold, innovative on Kashmir.
January 2, 2001
Qureshi.s transfer stayed
January 1, 2001
Dawood-ISI nexus in Nepal
December 31, 2000
Hijacker back after 30 yrs
December 30, 2000
Protect Indians, Nepal told
December 29, 2000