THE TRIBUNE MAGAZINES
On Mondays

On Sundays
On Saturdays
NDA team for Central rule
Report on WB violence disturbing: Advani
NEW DELHI, Jan 9 . The Union Home Minister, Mr L.K. Advani, today accused the West Bengal Government of not taking the alleged killing of Trinamool Congress supporters by CPM activists in Midnapore .seriously. and dubbed the order of the CID probe into the incident by the state government as an eyewash.

Mahakumbh on, lakhs take dip
KUMBHNAGAR, Jan 9 . Cupping water in their palms, standing in waist-deep river water, shivering, dancing and chanting prayers, tens of thousands of Hindus began the Mahakumbh Mela, literally the great fair of the urn, today.
Nation page: From Germany to Kumbh on cycle
KUMBH NAGAR, Jan 9 . From Germany.s Black Forest to a sea of sadhus in Allahabad, it has been a spiritual journey for Datta Bharti.



Devotees take a holy dip in the Ganga during the Mahakumbh Mela in Allahabad on Tuesday.
. Reuters photo

IN PASSING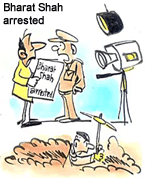 We are trying to nab some more underworld people.

Jitendra Prasada suffers brain haemorrhage
NEW DELHI, Jan 9 . Senior Congress leader Jitendra Prasada, admitted to Apollo Hospital here this morning after he suffered a .massive brain haemorrhage,. was in critical condition, a hospital release said.
Bharatbhai invested 100 cr, funded 75 films
MUMBAI, Jan 9 . The arrest of the most influential and powerful person in the Mumbai film industry, .Diamond King. Bharat Shantilal Shah for links with fugitive gangster Chhota Shakeel, has sent Bollywood into a tizzy.
India, Vietnam sign 5 accords
HANOI, Jan 9 . India and Vietnam today took a giant leap in economic relations signing five accords, including one that envisaged $ 238 million Indian investment in the oil and gas exploration as Prime Minister Atal Behari Vajpayee declared that enhanced bilateral cooperation was .critical. in New Delhi.s plans to forge stronger links with ASEAN.


Retired cops. services in demand
GURGAON, Jan 9 . Rapid industrialisation in the twin cities of Gurgaon and Faridabad with the concomitant prosperity of a major section of the populace has given rise to the culture of employing private security agencies for personal security.
Fog hits air, rail traffic
January 9, 2001
Patch-up efforts by George fail
January 8, 2001
Centre gives in to APHC demand
January 7, 2001
18 massacred in Bengal
January 6, 2001
Nitish resigns
January 5, 2001
States overloading grid
January 4, 2001
North plunges into darkness
January 3, 2001
.We shall be bold, innovative on Kashmir.
January 2, 2001
Qureshi.s transfer stayed
January 1, 2001
Dawood-ISI nexus in Nepal
December 31, 2000