Minister's house attacked
NC leader among 7 shot
SRINAGAR, Jan 11 — Militants of Jamait-ul-Mujahideen attacked the house of state Home Minister Mushtaq Ahmad Lone in the frontier district of Kupwara while an attempt was made to blow up the telephone exchange at Doda today.
THE TRIBUNE MAGAZINES
On Mondays

On Sundays
On Saturdays
IN PASSING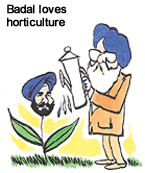 J&K seeks Central assistance
Fears lawlessness on power crisis
JAMMU, Jan 11 — The state government has approached the Centre for immediate help in tiding over the acute power crisis in Jammu and Kashmir.

Neeru Nanda new Adviser to Chandigarh Admn
NEW DELHI, Jan 11 — The Chairperson of the Chandigarh Housing Board, Ms Neeru Nanda, has been appointed Adviser to the Chandigarh Administration.
Amritsar, Chandigarh coldest
CHANDIGARH, Jan 11 — The northwest continued to shiver as the cold wave sweeping across the region intensified further today with mercury plummeting by 3 to 10°C while dense fog once again hit the rail, road and air services.
No takers for Dawood's properties
MUMBAI, Jan 11 — The much-hyped auction of underworld don Dawood Ibrahim's properties here worth Rs 5 crore turned out to be a damp squib today, with no bidder turning up at diplomat Hotel, the scheduled venue in South Mumbai.
HP bans constructions in tourist towns
SHIMLA, Jan 11 — The Himachal Pradesh Cabinet today ordered a complete ban on constructions in certain areas of Manali, Dalhousie, McLeodganj and Dharamsala. The Cabinet decided to discontinue the single-window system for approval of building plans in Manali, Dharamsala and Dalhousie and restored the powers to Deputy Commissioners.
CM dissolves SAD front bodies
January 11, 2001
50 hurt as blasts rock Kashmir
January 10, 2001
Fog hits air, rail traffic
January 9, 2001
Patch-up efforts by George fail
January 8, 2001
Centre gives in to APHC demand
January 7, 2001
18 massacred in Bengal
January 6, 2001
Nitish resigns
January 5, 2001
States overloading grid
January 4, 2001
North plunges into darkness
January 3, 2001
'We shall be bold, innovative on Kashmir'
January 2, 2001
Qureshi's transfer stayed
January 1, 2001