Offspring - Conspiracy Of One (Sony Music)
****
No one can express teen angst as clearly as these Orange County, Californian pop-punk rockers. Originally called Manic Subsidal, the band renamed itself Offspring in 1986. In 1989, the band signed Nemesis/ Cargo to release their debut album, also called Offspring. In 1992, Offspring's second album was released on the Epitaph label. Since then there's been no looking back. In 1998, their smash hit track Pretty Fly (For A White Guy) from Americana, was downloaded a record 22 million times in 10 weeks, landing the #1 spot on Rolling Stones 'Top Pirated Internet Songs Chart'. The band found instant recognition for its furious, compressed bursts of wit and good-humored rock. Their latest offering Conspiracy Of One carries a lot of attitude. It offers garage rock from the sixties to the skateboard anthems of the last decade. Polka beats, bass lines that hit the roof often, solo-free guitar riffs and lots of wit together form Conspiracy Of One. Frontman Dexter Holland gives his best on Original Prankster with lyrics like: Crime, Crime, Rockin' Like Janet Reno, Time, Time, Eighteen and Life In Chino. The Green Day-esque Want You Bad is a take-off on 1994's Self Esteem. Special Delivery is a full-throttle riff rocker. Denial, Revisited and Vultures are slow-tempo tracks that display some amazing guitar-works.
One Fine Day is sure to be a rock anthem. It goes like this — I believe it's my god-given right, to destroy everything in my sight, cause it never gets dull, it's never old, the only thing it gets is more bold. Rounded out by guitarist Noodles, bassist Greg K and Drummer Ron Welt, the band kicks the energy up a notch on Million Miles Away, Dammit I Changed Again and Living In Chaos. Window-smashing effort.
Max 7 - Various Artists (BMG Crescendo)
***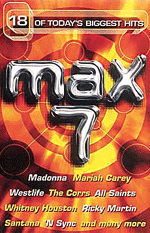 This compilation starts with a mellow melody of The Corrs' Breathless followed by the uptempo It's Gonna Be Me by N'Sync. Five does a cover of Queen's legendary track We Will Rock You. Santana adds a Supernatural effect with the phenomenal Maria, Maria featuring The Product G&B. Whitney Houston and George Michael sprinkles some R&B with their duet track If I Told You That. Toni Braxton sets the mood right with the soulful He Wasn't Man Enough. Mariah Carey and Westlife does a splendid cover of Phil Collin's Against All Odds (Take A Look At Me Now). Other popular tracks that have managed to find their way into this album include Madonna's Richard 'Humpty' Vission Radio Mix of American Pie, Pure Shores performed by All Saints, Christina Anguilera's I Turn To You, Ricky Martin and Meja's duet Private Emotion, Faith Hill's Breathe and Let's Get Loud performed by Jennifer Lopez. Maximum music- maximum hits.
Charlie's Angels – Original Motion Picture Soundtrack (Sony Music)
**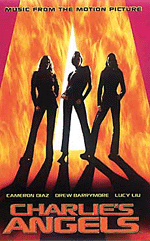 Based on the popular '70's television series, this Drew Barrymore, Cameron Diaz and Lucy Liu starrer is a knock-out. Among new recordings are Destiny's Child's smash hit Independent Women Part 1 which reached Billboard Top 100 Airplay chart and was rated the ninth most-heard single in the USA; DOT, another Destiny's Child's product; Angel's Eyes, the first new recording by Aerosmith since 9 Lives in 1997 and Ya Mama, a taste from Fatboy Slim's new album Halfway Between The Gutter & The Stars, Apollo Four Forty's uptempo version of the original Charlie's Angels theme. The sound track relives the golden age of '70's disco and rock, 80's new sounds and 90's dance music and techno. Among the old recordings, outstanding tracks comprise Heaven Must Be Missing An Angel a 1976 hit by Tavares, You Make Me Feel Like Dancing (1976) by Leo Sayer, True, the 1981 hit track by Spandau Ballet, Sir-Mix-A-Lot's 1992 notorious hit Baby Got Back, Marvin Gaye's Got To Give It Up (1977) and Dee-Lite's 1990 hit Groove Is In The Heart. A mixed bag, as ever, with soundtrack compilations.
Album Of The Month
2000 Latin Grammy — Various Artists (Sony Music)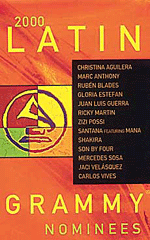 Latin music has gained such enormous popularity over the past few years that the Grammys guild finally announced the birth of the long-overdue Latin Grammys. From start to finish the mega show was a winner. And this compilation sums up what we could say were its best moments. This is a catalogue album comprisin nominations selected from an extensive list of Latin recordings released throughout the United States and Mexico, as well as Spain, Portugal, Brazil and Latin America. Marc Anthony received nominations for the Spanish version of the super hit I Need To Know and Da La Vuelta. Ricky Martin earned his nomination for the Spanish remake of Livin' La Vida Loca which sounds as groovy as the original. Santana proved to be an all-time favourite for his hit track Mana, featuring Corazon Espinado. The Latino diva Gloria Estefan was nominated for No Me Dejes De Querer. Other prominent nominations included A Puro Dolor (Salsa) performed by Son By Four, Juan Luis Guierra's El Niagara En, Carlos Vives' Fruta Fresca, Shakira's Ojos Asi and Al Despertar performed by Mercedes Sosa. The album overall offers rich Latin music except for Christina Anguilera's number Genio Atrapado which shows some amateur Spanish accent. Get this album to satisfy your fiery Latino appetite.